The Bradford Abbas Shield is a local annual derby hosted by Sherborne Bradford Abbas with entries from South Petherton, Wincanton, Yeovil and Shaftesbury.  The judge is always a closely guarded secret even from SBA themselves.  SBA to date has always chosen the subject but they announced in future the subject would be chosen by the winners however since they also won […]
Latest Club News… > > > > Members must log-in to see competition results etc
The Bradford Abbas Shield is a local annual derby hosted by Sherborne Bradford Abbas with entries from South Petherton, Wincanton, Yeovil and Shaftesbury.  The judge is always a closely guarded secret even from SBA themselves.  SBA to date has always chosen the subject but they announced in future the subject would be chosen by the winners however since they also won […]
Bill's programme for our forthcoming season is now finalised and printed copies and will be available at our first meeting on Thursday 12th September starting at 7:30 pm in the Royal British Legion Hall, Coppice Street, Shaftesbury.
You can view the full programme via our Programme tab on the Menu above or if you prefer, simply download a pdf copy to print at home, please use  THIS LINK.
Our New Season starts on September 12th at 7.30pm in the RBL hall as usual.
Our first meeting traditionally tends to be social – with light refreshments but this year we are adding more structure and interest.
We will have a SPEAKER for the second half of the evening; further details will follow on the website
The NEW PROGRAMME will be presented together with new rules for the cumulative (3 round) Shuffell trophy and a new standard for PDIs. The attached PDF will give you the details in case you cannot come and they are also on the website, as is the programme. We will also be accepting ideas for workshops.
There will be a brief demonstration of the new competition entry form and PDI upload facility.
A meeting not to be missed and we look forward to seeing you all plus any visitors you might wish to bring – 2 meetings are free if you are thinking of joining but only paid up members can enter competitions.
Our first competition evening is October 10th with entry and uploading deadline October 3rd. The set subject is 'People at work' and we need EITHER 2 prints (one set subject and one open) AND/OR 1 PDI (set subject)
Thinking ahead to the AV competition- Windows Movie Maker for Windows 10 is available again, it isn't the only AV programme you can use but it is very simple and quick to master. Brian T has downloaded and checked a copy from www.minitool.com as has Chris so do ask for more details.
Those of you who shop in Tesco should see our smart banner on the RBL railings for a week or two before the first meeting, please keep an eye on it and do any remedial work necessary or even remove it if it is vandalised. Let a committee member know if there is a problem but some will be away over the next couple of weeks.
SCC Committee
The set subject for the first round of our Shuffell Trophy in Oct 2019 is "People at Work".
For the Print series Round 1, you need to enter two Prints:  the first print should be "People at Work" and the second should be "Open".
For the PDI series, you need one PDI with the subject "People at Work".  Please be sure to read the post about the new PDI sizing!
Members can enter either or both the Print and PDI series.
We will have a short pre-meeting workshop starting at 6:50pm in the small committee meeting on Thursday 26th September to help any new or existing members prepare their entries.
The deadline for print titles and for PDI uploads is 3rd October.
If in any doubt, do please ask!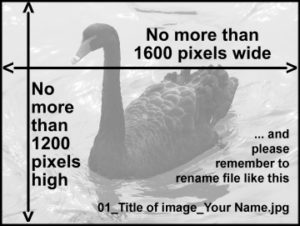 As from September 2019, Shaftesbury Camera Club will be adopting the new PDI standard of 1600 x 1200 pixels that is being used by WCPF and many other clubs.  Fortunately the software we routinely use (Dicentra and Faststone) detects the projector native resolution and rescales on the fly to match.  This means a full 1600 x 1200 image will be rescaled downwards by exactly 10% to accommodate our 1920 x 1080 projector, i.e. the image will be presented as 1440 x 1080.
Members can enter up to 2 prints and/or 2 PDIs in this end-of-season competition.  Entries may have been shown before in this year's Shuffell competition or be entirely new.  Unusually, we had the same number of prints as PDIs, 26 of each which made for a very comfortable number of images for our judge, John […]
We host the Shaston Challenge to bring together a variety of neighbouring clubs each year for a friendly 4-way match with each club submitting just 12 PDIs.  The judge is kept secret, even from ourselves (except of course for Bill who has the nerve-racking task of planning the evening 🙂 ).  This year, our guest […]
We've never recommended parking in the Tesco Car Park but realise some members may use it. Please note that the Tesco car park has recently reduced the permitted stay to 2 hours.
The Met Office have issued warnings for heavy snow affecting parts of Dorset during Thursday afternoon and evening. We have therefore decided to cancel Thurs 31st Jan meeting and to postpone our Shuffell 3 mono competition to Thurs 14th Feb. We are striving to notify all members by email but please help spread the word.
This means our Ladies v Gents competition (subject "Fluid") will have to be held at a later date: more details later. You are welcome to upload candidate entries as normal but there is no deadline at present.