Latest Club News… > > > > Members must log-in to see competition results etc
Bill's programme for our forthcoming season is now finalised and printed copies and will be available at our first meeting on Thursday 12th September starting at 7:30 pm in the Royal British Legion Hall, Coppice Street, Shaftesbury.
You can view the full programme via our Programme tab on the Menu above or if you prefer, simply download a pdf copy to print at home, please use  THIS LINK.
Our New Season starts on September 12th at 7.30pm in the RBL hall as usual.
Our first meeting traditionally tends to be social – with light refreshments but this year we are adding more structure and interest.
We will have a SPEAKER for the second half of the evening; further details will follow on the website
The NEW PROGRAMME will be presented together with new rules for the cumulative (3 round) Shuffell trophy and a new standard for PDIs. The attached PDF will give you the details in case you cannot come and they are also on the website, as is the programme. We will also be accepting ideas for workshops.
There will be a brief demonstration of the new competition entry form and PDI upload facility.
A meeting not to be missed and we look forward to seeing you all plus any visitors you might wish to bring – 2 meetings are free if you are thinking of joining but only paid up members can enter competitions.
Our first competition evening is October 10th with entry and uploading deadline October 3rd. The set subject is 'People at work' and we need EITHER 2 prints (one set subject and one open) AND/OR 1 PDI (set subject)
Thinking ahead to the AV competition- Windows Movie Maker for Windows 10 is available again, it isn't the only AV programme you can use but it is very simple and quick to master. Brian T has downloaded and checked a copy from www.minitool.com as has Chris so do ask for more details.
Those of you who shop in Tesco should see our smart banner on the RBL railings for a week or two before the first meeting, please keep an eye on it and do any remedial work necessary or even remove it if it is vandalised. Let a committee member know if there is a problem but some will be away over the next couple of weeks.
SCC Committee
The set subject for the first round of our Shuffell Trophy in Oct 2019 is "People at Work".
For the Print series Round 1, you need to enter two Prints:  the first print should be "People at Work" and the second should be "Open".
For the PDI series, you need one PDI with the subject "People at Work".  Please be sure to read the post about the new PDI sizing!
Members can enter either or both the Print and PDI series.
We will have a short pre-meeting workshop starting at 6:50pm in the small committee meeting on Thursday 26th September to help any new or existing members prepare their entries.
The deadline for print titles and for PDI uploads is 3rd October.
If in any doubt, do please ask!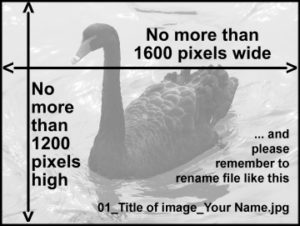 As from September 2019, Shaftesbury Camera Club will be adopting the new PDI standard of 1600 x 1200 pixels that is being used by WCPF and many other clubs.  Fortunately the software we routinely use (Dicentra and Faststone) detects the projector native resolution and rescales on the fly to match.  This means a full 1600 x 1200 image will be rescaled downwards by exactly 10% to accommodate our 1920 x 1080 projector, i.e. the image will be presented as 1440 x 1080.
Members can enter up to 2 prints and/or 2 PDIs in this end-of-season competition.  Entries may have been shown before in this year's Shuffell competition or be entirely new.  Unusually, we had the same number of prints as PDIs, 26 of each which made for a very comfortable number of images for our judge, John […]
We host the Shaston Challenge to bring together a variety of neighbouring clubs each year for a friendly 4-way match with each club submitting just 12 PDIs.  The judge is kept secret, even from ourselves (except of course for Bill who has the nerve-racking task of planning the evening 🙂 ).  This year, our guest […]
We've never recommended parking in the Tesco Car Park but realise some members may use it. Please note that the Tesco car park has recently reduced the permitted stay to 2 hours.
The Met Office have issued warnings for heavy snow affecting parts of Dorset during Thursday afternoon and evening. We have therefore decided to cancel Thurs 31st Jan meeting and to postpone our Shuffell 3 mono competition to Thurs 14th Feb. We are striving to notify all members by email but please help spread the word.
This means our Ladies v Gents competition (subject "Fluid") will have to be held at a later date: more details later. You are welcome to upload candidate entries as normal but there is no deadline at present.
UPDATE May 2019: The format of competitions is being changed to accommodate the larger number of entries so references below to 2 prints, 2 PDIs may not always apply!  Please read the latest posts about competition entries carefully!  The text below has been updated to the new PDI standard of 1600 wide and 1200 high.
New members may find it a little daunting to try to enter our friendly competitions but the "rules" are fairly simple and we are always happy to help by email or phone.  Competitions are meant to be fun and help everyone get more out of their photography so we don't want technical requirements to put anyone off!
You can find the full competition rules via the menu tabs above or just follow this link.   For normal competitions, you should aim to submit two images as mounted prints and/or two as electronic jpg files (known as PDIs – projected digital images).
Prints should be mounted on a card backing no more than 16 x 20 inches but most people use quite a lot smaller, especially for A4 sized prints to keep costs down.  For simplicity, you can simply mount your print onto a suitable card backing but many members use cut mounts.  The mounting technique is not part of the judging but a nicely mounted print helps to set off your image.
PDIs are simply jpg files but they do need to be sized and named correctly so they can be processed by our competition software.  Once you have prepared your PDIs, all you need to do is to access our Upload page on our website and follow the on-screen instructions.  If you encounter any problems, please email us at info@shaftesburycameraclub.org.uk or ring Chris at the number on the front of our printed Programme leaflet.  In brief, the steps to preparing your PDIs is as follows…
Keep a copy of your original jpg file on your computer as the following changes cannot be undone: never ever work on your original files!!!
Resize your jpg using a quality photo editor so it is no more than 1600 pixels wide and 1200 pixels high.  Letterbox (i.e. wide and thin) images should be the full 1600 wide while portrait-oriented images should be the full 1200 pixels high.
[Tip1: Faststone is an excellent editor & free for personal use: other low-cost non-subscription candidates include Adobe Photoshop Elements or Affinity Photo;
Tip2: After any resizing, image definition is lost and some images benefit from a small amount of unsharp-mask (usm) sharpening: try 0.8pixels with 40% to 70% for PS Elements (0.4 to 0.7 for Affinity Photo) or 13 for Faststone]
Save your image using a high quality level so the file size is no more than 2 Megabytes  (2MB, 2000kB): file sizes less than 500 kBytes are unlikely to look good when projected onto a 6 foot screen.
Rename your files so they look like 01_Gold Hill at Night_Your Name.jpg,    02_Lost in thought_Your Name.jpg
Complete the web form at www.shaftesburycameraclub.org.uk/upload and remember to select your images and click the green button.
If everything goes well, you will quickly get an automated reply: for new members, Chris will also send a personal email as soon as possible.
 Chris
ps1  PDI sizes are measured in pixels – the size in inches means nothing for projectors and you don't need to worry about dots per inch!
ps2 Mac users might like to look at ZnViewMP, another free editor that works on virtually any computer operating system.