NEXT MEETING …    ALL THIS SEASONS MEETINGS ARE CANCELLED.
All meetings (including End-of-Year AGM in May) are cancelled.  Our new 2020-2021 season traditionally starts in September each year but may be earlier or later depending on events.  Please keep an eye on our website for latest news and plans (including any web-based projects/activities during the current crisis).   
We hope to reschedule some missed meetings for later in the year and to hold our Annual Exhibition later this year.  We hope to be able to offer one or two activities via the internet.  We will keep members and potential new members informed via email and on the website.
POTENTIAL NEW MEMBERS…
If you think you might be interested in joining our friendly club once this covid-19 crisis is over, please contact us by email, phone or web form now.  We can then include you in our plans for when life gets closer back to normal.  We cater for all levels – beginners to very advanced/professional.
  info@shaftesburycameraclub.org.uk or contact us
Member Western Counties Photographic Federation   §  Affiliated to Photographic Alliance of GB
Latest Club News… > > > > Members must log-in to see competition results etc
Shaftesbury's future radio station is already online
with daily podcasts during the COVID-19 crisis.
thisisalfred.com/update — latest local information – what's open or closed,
community support, food shops, etc.

We have a simple page which you can access at www.shaftesburycameraclub.org.uk/ap with our usual password. This page is meant an an aid-memoire to those participating in the current group and as a structure to possibly repeat in future seasons.
If you think you might be interested in such a future group, please first take a look at Affinity Photo, especially the introductory article given in our AP Notes page. You can download a free trial of Affinity Photo (I think 2 weeks) for either Mac or Windows and there is a host of video tutorials on their site. Affinity also have an fully-fledged award-winning app for the iPad at around £20 (iOS 10 or later). If you are still interested, email Chris so we can gauge the level of interest.
Affinity Photo is a relatively new British product (one of a suite of programmes) that is rapidly growing worldwide in popularity amongst amateurs and professionals alike. It is a well regarded non-subscription based alternative to other popular programmes. You work on individual photos (e.g. RAW or jpg) but currently Affinity has no equivalent to the "Lightroom" type of cataloging or bulk processing.
Affinity Photo is available for Windows, or Mac, or most modern Ipads at a very attractive price, and there is no subscription. In many ways it is similar to Photoshop and like all advanced editors, there is a lot to learn but it is very rewarding.
In many ways, Affinity Photo is similar to full Photoshop (if not better and more user-friendly). We have established a sub-group of members to help each other to get to grips with AP and to learn more about post-processing techniques. 
The object of our self-help group is to rapidly get each person familiar and confident enough with Affinity Photo to be able to progress at their own pace with a way to quickly find friendly help or guidance with any questions. Ask for details!
Last year we didn't have our annual battle of the sexes due to time pressures/weather/etc. We usually have to twist may arms to get as many members as possible to enter at least one image, especially newer members or those who don't normally enter competitions.  This year was no different and we wondered whether the […]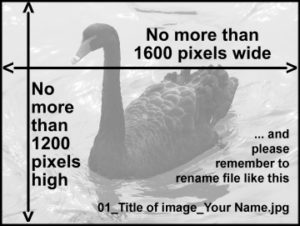 As from September 2019, Shaftesbury Camera Club will be adopting the new PDI standard of 1600 x 1200 pixels that is being used by WCPF and many other clubs.  Fortunately the software we routinely use (Dicentra and Faststone) detects the projector native resolution and rescales on the fly to match.  This means a full 1600 x 1200 image will be rescaled downwards by exactly 10% to accommodate our 1920 x 1080 projector, i.e. the image will be presented as 1440 x 1080.
We've never recommended parking in the Tesco Car Park but realise some members may use it. Please note that the Tesco car park has recently reduced the permitted stay to 2 hours.
UPDATE May 2019: The format of competitions is being changed to accommodate the larger number of entries so references below to 2 prints, 2 PDIs may not always apply!  Please read the latest posts about competition entries carefully!  The text below has been updated to the new PDI standard of 1600 wide and 1200 high.
New members may find it a little daunting to try to enter our friendly competitions but the "rules" are fairly simple and we are always happy to help by email or phone.  Competitions are meant to be fun and help everyone get more out of their photography so we don't want technical requirements to put anyone off!
You can find the full competition rules via the menu tabs above or just follow this link.   For normal competitions, you should aim to submit two images as mounted prints and/or two as electronic jpg files (known as PDIs – projected digital images).
Prints should be mounted on a card backing no more than 16 x 20 inches but most people use quite a lot smaller, especially for A4 sized prints to keep costs down.  For simplicity, you can simply mount your print onto a suitable card backing but many members use cut mounts.  The mounting technique is not part of the judging but a nicely mounted print helps to set off your image.
PDIs are simply jpg files but they do need to be sized and named correctly so they can be processed by our competition software.  Once you have prepared your PDIs, all you need to do is to access our Upload page on our website and follow the on-screen instructions.  If you encounter any problems, please email us at info@shaftesburycameraclub.org.uk or ring Chris at the number on the front of our printed Programme leaflet.  In brief, the steps to preparing your PDIs is as follows…
Keep a copy of your original jpg file on your computer as the following changes cannot be undone: never ever work on your original files!!!
Resize your jpg using a quality photo editor so it is no more than 1600 pixels wide and 1200 pixels high.  Letterbox (i.e. wide and thin) images should be the full 1600 wide while portrait-oriented images should be the full 1200 pixels high.
[Tip1: Faststone is an excellent editor & free for personal use: other low-cost non-subscription candidates include Adobe Photoshop Elements or Affinity Photo;
Tip2: After any resizing, image definition is lost and some images benefit from a small amount of unsharp-mask (usm) sharpening: try 0.8pixels with 40% to 70% for PS Elements (0.4 to 0.7 for Affinity Photo) or 13 for Faststone]
Save your image using a high quality level so the file size is no more than 2 Megabytes  (2MB, 2000kB): file sizes less than 500 kBytes are unlikely to look good when projected onto a 6 foot screen.
Rename your files so they look like 01_Gold Hill at Night_Your Name.jpg,    02_Lost in thought_Your Name.jpg
Complete the web form at www.shaftesburycameraclub.org.uk/upload and remember to select your images and click the green button.
If everything goes well, you will quickly get an automated reply: for new members, Chris will also send a personal email as soon as possible.
 Chris
ps1  PDI sizes are measured in pixels – the size in inches means nothing for projectors and you don't need to worry about dots per inch!
ps2 Mac users might like to look at ZnViewMP, another free editor that works on virtually any computer operating system.
Just a reminder to all members that you need to log-in in order to view the scores from our internal competitions.  The log-in details are given at the top of our occasional newsletters but you can always just ring or email Chris or Helen.