UPCOMING MEETINGS…    Welcome to our weekly Zoom Programme
Meetings open from 7:00 for 7:30 start
(Programme subject to change)
—
4th June: Z7___  PDI of the Year Competition with guest judge.  
     NOTE: This was postponed from last week. Entries are now closed.
Zoom Challenge #6 DEADLINE (In my garden) is Noon, 4th June
—
11th June: Z8___ Special Guest Speaker – Joe Houghton "Street Photography"
Joe's work has been featured in many international publications, books, and by the Royal Photographic Society and the Photographic Society of South Africa.  He is also a Getty images contributor.
https://www.houghtonphoto.com/

—
18th June: Z9___ Leo Rich: "The Idle Rich Rambles on"
Leo Rich joined his first camera club over forty years ago and has amassed a considerable expertise both as a photographer and judge at home and abroad. He is also a past president of the PAGB to which our club is affiliated.
Zoom Challenge #7 DEADLINE (Something to make us smile) Noon 18th June
—
25th June: Z10___ AGM, Prize Giving plus…  TBA!
—
All meetings at 7:00 for 7:30 start.  Meetings usually last for 1~2 hours with short break just before 8pm (stay logged in!).  Watch for details on posts below and changes by email.  
Log-in details for Zoom meetings will be emailed to members one or two days ahead so please check you have these to hand on each Thursday.
POTENTIAL NEW MEMBERS…
If you think you might be interested in joining our friendly club, please contact us by email, phone or web form now.  We can then include you in our plans.  We cater for all levels – beginners to very advanced/professional.
All  physical meetings have been cancelled.  Our new 2020-2021 season traditionally starts in September each year but may be later.
  info@shaftesburycameraclub.org.uk or contact us
Member Western Counties Photographic Federation   §  Affiliated to Photographic Alliance of GB
Latest Club News… > > > > Members must log-in to see competition results etc
Shaftesbury's future radio station is already online
Daily podcasts during the COVID-19 crisis.
thisisalfred.com/update — latest local information –
community support, shops, etc.

The following notes might help with preparing PDI (projected digital images) for competitions…
(These hints are in addition to the notes extracted from our competition rules which you can find under the menu item Competions/Print & PDI formats)
1) The club standard for PDIs is 1600 pixels maximum width  &  1200 pixels maximum height
> Full screen is 4:3 aspect ratio, about 2.0 Megapixels
> This is the new recognised inter-club standard for projecting images adopted in 2018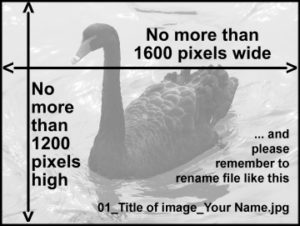 > If your image is portrait format (tall and narrow), your width will be less than 1600
> If your image is letterbox format (i.e. wide), the height will be less than 1200
> If your image is square, the height and width should be 1200
> Always start from jpg, tiff or raw files:   WARNING: bmp, etc are not photographic formats
> You CANNOT swap width for height unless you want the judge to lie on his side!!!
> Smaller images will be projected less than full screen
2) It is always best to use Photoshop, PS Elements, Faststone or Affinity Photo to resize because these use proper photographic principles to minimise loss of detail and sharpness.  First prepare & save your 1600×1200 as a jpg (as tiff formats are too big to upload).  Check the file size is less than 2 Megabytes: you may need to reduce jpg quality to 90% to do this.
> Avoid resizing in email, browsers, Facebook, etc which only use crude algorithms.  Tablet and smartphone "apps"  are not good at resizing either.
3) A little careful sharpening before saving your 1600×1200 images can make a significant improvement.  Treat it like adding salt to a meal: just enough to enhance the flavour but not enough to taste the salt!
> Sharpening is nearly always needed after resizing – it is not cheating!!!
> Unsharp mask (USM) protects edges & detail by increasing local contrast and corrects for sampling errors
> Don't do too much – avoid halos.  Do ask if you would like further guidance!
 Note: Printed images also often benefit from unsharp masking but the values will be different from those above.  Sharpen  immediately before printing once you have decided print size and finish.  Expensive cameras often have a menu setting to adjust the default sharpening in-camera: if so, the factory default setting is normally quite low.