NEXT MEETING …    7:30pm   14th November 2019
Guest Speakers: John & Di Tilsley
John is a WCPF lecturer and part of the team training and mentoring judges. He is a prolific photographer himself with specific expertise in monochrome prints.  Di is also an accomplished photographer in her own right and together make a formidable team.  Tonight, they will be showing some of their latest work in prints and PDIs.
Deadline: 21st Nov Shuffell 2nd Round – 2 Prints and/or 1 PDI, all "Open".
  info@shaftesburycameraclub.org.uk or contact us
Member Western Counties Photographic Federation   §  Affiliated to Photographic Alliance of GB
Latest Club News… > > > > Members must log-in to see competition results etc
The following notes might help with preparing PDI (projected digital images) for competitions…
(These hints are in addition to the notes extracted from our competition rules which you can find under the menu item Competions/Print & PDI formats)
1) The club standard for PDIs is 1600 pixels maximum width  &  1200 pixels maximum height
> Full screen is 4:3 aspect ratio, about 2.0 Megapixels
> This is the new recognised inter-club standard for projecting images adopted in 2018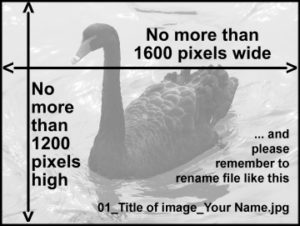 > If your image is portrait format (tall and narrow), your width will be less than 1600
> If your image is letterbox format (i.e. wide), the height will be less than 1200
> If your image is square, the height and width should be 1200
> Always start from jpg, tiff or raw files:   WARNING: bmp, etc are not photographic formats
> You CANNOT swap width for height unless you want the judge to lie on his side!!!
> Smaller images will be projected less than full screen
2) It is always best to use Photoshop, PS Elements, Faststone or Affinity Photo to resize because these use proper photographic principles to minimise loss of detail and sharpness.  First prepare & save your 1600×1200 as a jpg (as tiff formats are too big to upload).  Check the file size is less than 2 Megabytes: you may need to reduce jpg quality to 90% to do this.
> Avoid resizing in email, browsers, Facebook, etc which only use crude algorithms.  Tablet and smartphone "apps"  are not good at resizing either.
3) A little careful sharpening before saving your 1600×1200 images can make a significant improvement.  Treat it like adding salt to a meal: just enough to enhance the flavour but not enough to taste the salt!
> Sharpening is nearly always needed after resizing – it is not cheating!!!
> Unsharp mask (USM) protects edges & detail by increasing local contrast and corrects for sampling errors
> Don't do too much – avoid halos.  Do ask if you would like further guidance!
 Note: Printed images also often benefit from unsharp masking but the values will be different from those above.  Sharpen  immediately before printing once you have decided print size and finish.  Expensive cameras often have a menu setting to adjust the default sharpening in-camera: if so, the factory default setting is normally quite low.