UPCOMING MEETINGS…   
NEW SEASON STARTS Thursday 3rd SEPT 2020 ON ZOOM!
POTENTIAL NEW MEMBERS…
If you are interested in joining our friendly club, please contact us by email, phone or web form now.  We can then include you in our plans and we're  happy to help you with Zoom on PCs, Macs, iPads, phones, etc.  We cater for all levels of interest – beginners to very advanced/professional – and will be offering additional workshops and photo visits. 
SCC meetings for the first few months of our new 2020-2021 season will be held using Zoom.  Zoom meetings will continue on a fortnightly basis until it is practical to resume meetings in the Royal British Legion Hall, Shaftesbury.
Zoom meetings normally open at 7:00pm for 7:30 start and usually last for 1~2 hours with a short rest break (stay logged in!).  There are opportunities for general chit chat, questions etc.  Watch for details on posts below and changes by email. 
Zoom log-in details are emailed to members one or two days ahead so please check you have these to hand on each Thursday.
  info@shaftesburycameraclub.org.uk or contact us
Member Western Counties Photographic Federation   §  Affiliated to Photographic Alliance of GB
Latest Club News… > > > > Members must log-in to see competition results etc
Shaftesbury's future radio station is already online
Daily podcasts during the COVID-19 crisis.
thisisalfred.com/update — latest local information –
community support, shops, etc.

You can download to print and/or view our leaflet summarizing this year's revised arrangements by CLICKING HERE
By the way, sorry if some of our jargon isn't clear! We use PDI (Projected Digital Image) to mean jpg images that conform to our entry requirements which are simply those that fit into our 1600 pixels wide and 1200 pixels high maximum limits. We will have a pre-meeting workshop to explain all this at 6:45pm in the small committee room on our next club night, Thursday 26th September. Just turn up on the night and we hope to cover both PDIs and Print requirements.
[Note some clubs use the term DPI instead of PDI: we prefer PDI to prevent any confusion with "dots per inch". (And for those expecting to be told to use a particular "dpi" such as 72 or 300, this value does not matter when used on our projector. If you are concerned set it to 300dpi.]
Even if you are not yet ready to enter any Prints or any PDIs, you are always welcome to have a go "to break the ice" or if you prefer, please just talk with Helen or Chris about the photos you might like to submit. There is no pressure to enter competitions (except perhaps for our light-hearted Ladies v Gents) but most people find entering rewarding and helps to have impartial feedback. Don't worry if your early scores are at the lower end: we all do from time to time except for one or two extremely talented members!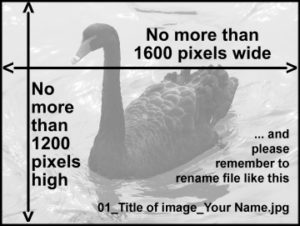 As from September 2019, Shaftesbury Camera Club will be adopting the new PDI standard of 1600 x 1200 pixels that is being used by WCPF and many other clubs.  Fortunately the software we routinely use (Dicentra and Faststone) detects the projector native resolution and rescales on the fly to match.  This means a full 1600 x 1200 image will be rescaled downwards by exactly 10% to accommodate our 1920 x 1080 projector, i.e. the image will be presented as 1440 x 1080.
Notes for projector and laptop Feb 2020
2 socket extension lead plugs in below wall screen, attach to floor with tape. Low table at end of it with projector at front and laptop behind. Plug projector and Laptop through the hole in the table into the sockets.
Switch on projector (back L) should show test card, make sure projector is at right angles to screen, test card centred and 2ins from top of screen. Lift front of projector with lens cap, focus (black ring) and zoom (white ring) if needed
Laptop power lead goes in socket at the back of the Left side. Attach to projector at front of L side of Laptop and HDMI 1 on top row of back of projector. The laptop screen should go black and projector show the laptop 'desktop'
Remote keyboard (so you can sit comfortably at table). Switch L side give green light. Click F2 to sync keyboard to laptop: use the Windows 'start key' on bottom row to prove it is working. You may need to repeat F2 and start.
Mouse switch under it, (you may need to use the laptop pad to get the cursor on the screen) the mouse should now work cursor but if it doesn't you can see Bluetooth info via 'start' button and top left square on the windows screen.
If all else fails, you can use laptop anywhere with 3m lead in the projector case or 15m lead in the cabinet upstairs and a wired mouse in laptop case (wrapped in cling). This is useful for visiting laptops.
Note if using AppleMac you may need to change colour from RGB to YCbCr (YUV) on the projector. Menu/Image/Colourspace. Auto or YUV.
Dicentra and running competitions
On Dicentra select required competition
Top menu banner select 'Competition' and Run (or Ctrl R)
Right click on mouse brings up Menu or (M)
Use the keyboard R and L arrows to run through the images; for slide preview 3secs or see below.
Scoring use torch to enter scores (.) for half marks (H) to hold back and hit again to remove Held. To remove marks use back key
(N) is Navigator. A button at bottom will give a slideshow useful for preview . It also will show 'images missing marks' and 'held images' and can show 'all 10's' etc. You can select another bottom button to show things on the Light box. You can check box at bottom to show names
S gives final scores
If things are 'pinging' try Esc
Mouse to bottom of screen shows Images held back.
SCC has been invited by Blandford Forum CC to participate in a three club "Match-an Image" competition later this season. The last one of these was in November 2014 again hosted by Blandford where we came 3rd having won (… just) the year before: read our brief report here.
These notes are to help newer members to understand how this fun competition is run and to help them provide us with suitable images.
At the start of the evening, each club has to be prepared with 40 PDI's loaded on their own laptop and projector. One club will then project one of their PDI's as a "starter" image: the other two clubs then have a strict time limit of 30 seconds to select and project their "matching" image. The judge (who is often the victim of considerable good-natured banter) then has to award marks as follows:
The "starter" image automatically gets 1 mark
"Matching" images get 1 mark each if the judge agrees they match the starter
The judge awards a further 1 bonus mark to the best quality image from the starter and valid matches
If none are judged as matches, the starter gains a bonus of 1 mark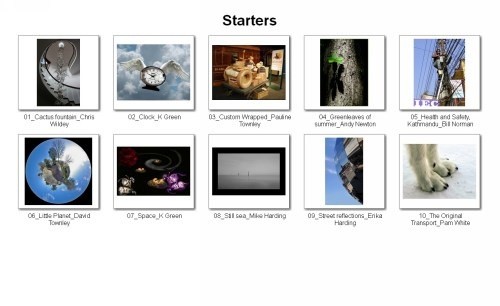 The three images used in each round cannot be used again in subsequent rounds. Each club takes it in turn to provide the "starter" image and there are a total of 30 rounds. Hence each club provides 10 starters and 20 "matches", and will have 10 unused images at the end.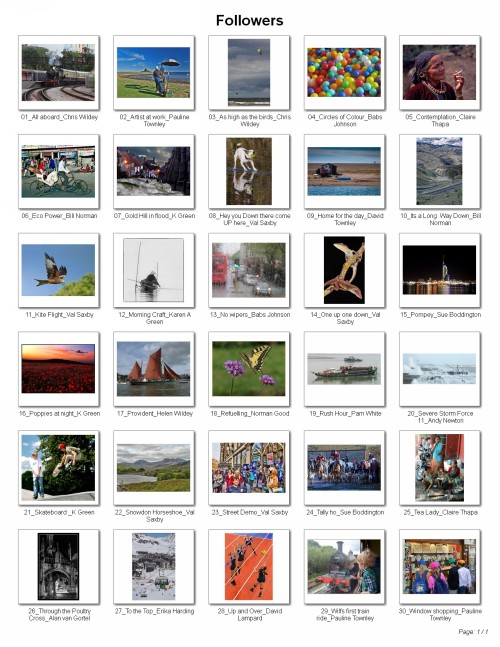 In addition to our laptop, projector and 40 PDIs, we will have our PDIs printed as contact sheet and clearly numbered to help make our rapid choice of matching images before the disqualifying 30 second time limit. Used images can be crossed through with a black pen. As a minimum on the night, we will need two members to choose the images, one to run the laptop and one to keep score. Additional members can help by challenging the unfortunate judge!
It should be clear that our 10 "starter" images need to be difficult for other clubs to find a "match" but our "follower" ones need to be general enough to match all sorts of others.
IMPORTANT! – Use a wired mouse for the laptop, not wireless or trackpad! Also keep a black screen.jpg in the starter and follower folders.
UPDATE May 2019: References to 1400×1050 changed to 1440×1080 to align the projection standard to the new Inter-club 1600×1200 pixel standards.  The no-input user-generated test image has been adjusted to facilitate easy alignment for both 16:9 and 4:3 formats using the full 1080 height.
UPDATE Nov 2018: Noted High contrast edges, e.g. trees against sky, were showing a halo similar to oversharpening.  Reduced BrillColour from 8 to 1, well below the as-delivered setting of 6.  Also reduce Brightness from 1 to -3 to respond to comments about overall brightness: still able to see 1% step patterns near 3% and 97%.
UPDATE Mar 2018: Noted Reds were dull & biased towards brown. Adjusted R hue and sat a touch, and increased BrillColour and Sharpness.  We also now have a test image and reference print from Marrutt.  Settings as at Nov 2015 except as amended in colour…
This projector is a 4200 Lumen 1920 x 1080 pixel high definition projector.  It has a x1.5 zoom lens that facilitates quick image resizing so that we can use the full 6 foot wide screen for either 1920×1080 (16:9) or 1440×1080 (4:3) projection.
| | |
| --- | --- |
| REMOTE CONTROL | Principal Keys… |
| | (default bold underlined) |
| | |
| Key | Function |
| Power (Red) | Hit twice to turn off |
| Button below Power | Audio Mute & Display Blank |
| | |
| #1     (Format) | Native, 4:3, 16:9, Letterbox |
| #2   Menu (Blue) | Open or close menu pop-up |
| #7   User1 | Brightness   1 |
| #8   User2 | Contrast       0 |
| #9   User3 | Test pattern: None-Grid-White |
| #0  (*/*) (Green) | Bright / Eco (quieter) |
| | |
| | |
| Laser (Orange) | |
| Keystone | |
| Volume | |
| | |
The main settings "as delivered" and as we have currently set for PDI are tabulated below.
Important note!  Just because you've checked these using (say) HDMI as input, they won't necessarily be right when using a different input source such as VGA!!!
Optoma EH415e
Projector settings
As delivered
Nov 15


Mar 18




Nov 18

Notes
IMAGE TAB
Display mode
Movie
sRGB
Brightness
1

-3

Contrast
0
Sharpness
8
 

8:




now 

10
Advanced…
Gamma
Film
Standard
BrillColour
6
6:

8


now 1
Colour Temp
Standard
Colour Space
 Auto
RGB16-235
HDMI & Mac use RGB16-235
Noise reduction
1
Colour matching…
HSG for Movie
HSG for sRGB
NB Varies by display mode
Matching Red
-10 1 8
0 0 0:


now 3 2 0 

Matching Green
0 1 8
0 0 0
Matching Blue
0 1 8
0 0 0
Matching Cyan
0 1 8
-10 0 0
Matching Magenta
28 1 8
17 0 0
Matching Yellow
25 1 8
15 0 0
Matching White
0 -6 -4 RGB
0 -6 2
DISPLAY TAB
Format
Auto
Native
Edge mask
0
Zoom
0
Shift
0:0
V keystone
0
3D
Off/off
OPTIONS TAB
User 1 (Key 7)
Brightness
Brightness
User 2 (Key 8)
Source lock
Contrast
User 3 (Key 9)
Sleeptime
Test Pattern
Brightness Mode (Key 0)
Bright
Eco
Dynamic Black
Off
Off
Aspect ratio & Zoom lens…
The native resolution is 1920 x 1080 pixels which is a Full HD 16:9 format.
If the projector is positioned with minimum zoom to fill our 6 foot screen, then the zoom can be increased until a 1440 x 1080 image also fills the screen.  Both Faststone and Dicentra detect the projector resolution and perform rescaling on the fly so can effectively project 1600 x 1200 images. [Note: 1440 & 1080 are exactly 90% of 1600 & 1200.]
The projector has been pre-loaded with a SCC test target so this, focussing and general alignment can all be completed before any video cables etc are attached.
Compatibility with Samsung laptop video chipset
The Samsung inbuilt display is (like the majority of medium cost laptops) limited to 1366 x 768 pixels so projecting the desktop simultaneously on both laptop and EH415e will not prove satisfactory.  There are two alternative options…
1)  Only use the projector and disable the laptop display by using either "Windows key" + "P" or mouse right click on Desktop background to select Screen Resolution and choose Multiple Display = Show desktop only on 1.  The laptop should then drive the projector at its native 1920×1080 resolution.  Main disadvantage of this is that it is difficult to view the keyboard (e.g. scoring) in a darkened room.
2) Use the dual display capabilities of the laptop video chipset by choosing Multiple Display = Extend these displays.  You can then check that laptop is "1" and the projector "2" using the Identify button: generally 2 is to the right of 1 but if this is inconvenient, you can drag and drop to swap the two screens over.  If a third screen appears, select it and then choose Remove this display from the drop-down list.
With dual displays, you can drag and drop programme windows using the conventional top bar of any window between the two screens.
Dicentra Dual screen facility
Recent updates to Dicentra have improved how it handles dual screen environments.  Version 4.6.107 now detects dual screen with two pop-ups asking for one to be dragged to the projector screen and one to be dragged to the laptop.  Note that some Dicentra pop-ups may appear on the projected image while others appear on the laptop.
When running a competition, it can be helpful to open an empty text document on the laptop display to provide some keyboard illumination.
As Dicentra has to be set up during the Competition Rules with the projected image size, unfortunately it is not then possible to properly preview or practice the competition on the laptop alone as about 12% is lost from both the top and bottom of the image – but you can at least check image order, titles etc.  As a work-around, there is an icon on the desktop PREVIEW DICENTRA COMPS that opens to give a shortcut to the internal Dicentra folders that

with care

can be  browsed as a slideshow.
For more details on dual screen and Dicentra, read an up-to-date User Manual (Chapter 10).
MAC HDMI Video Colour Spaces…     (added 11/1/16)
Our Windows PCs output RGB16-235 colour space for HDMI inputs as it recognises the projector as a monitor.
However, Macbooks apparently recognise any 1920×1080 HDMI device as a video product and accordingly default to a YCbCr colour space (the digital equivalent to YUV) which results in an unusable image.  Two options exist if this happens:-
   a) Use VGA cable
   b) Change the Colour Space on the projector under Menu/Image/Colour Space to either Auto or YUV
Dicentra Workflow for internal Competitions (E.g. Shuffell, PDI of the Year)
[Team (eg LvG) or Inter-Club Comps need a different workflow!]
NOTE! Dicentra has evolved a lot and now can handle rescaling on the fly so PDIs can be loaded into competitions at the 2019 standard of 1600×1200 pixels.
Status: 1st draft Dec 2015
1.  Dicentra Organiser Plus  – DOP  [One day may be integrated into Dicentra]
Rules/New  Create comp name e.g. "Shuffell Trophy PY2 Dec15"
Closing Date same as Comp Date
Images  2pp,  1400×1050 for new projector
Randomise Every Round
Files     Seq No_Image Title_Full Name
Variations    just ignore
Scoring   (ensure half mark is ticked!)
2. DOP  Process/Organize
Browse to Dropbox via Desktop
Hopefully there won't be any wrongly named files, esp names with missing/extra spaces/etc!
This creates Folder "Comp Name OUTPUT" somewhere on Desktop with jpgs renamed as 01_Image Title.jpg organised into sub-folders by entrants full name: hence need for their names right!!!
3  Dicentra main programme [Rules should already be there]
Select comp from dropdown list
3.1 Setup/Load Entries…
Browse to "Comp Name OUTPUT" on Desktop, select any one entrant folder
Tick "Set All" & Select
3.2 Setup/Make Competition…
3.3 Test by… Competition/Run Comp   Ignore wrong screen size
If happy….
File/Reports/Printable Reports/Blank Scoresheet
Don't Split into Rounds
Scoresheet is on Desktop as .rtf file
For Notes on using dual screen when projector connected, see Comp Admin on website.
UPDATE 2019: The Club standard for internal PDI competitions has been increased to 1600 pixels wide x 1200 pixels high as from September 2019. Sizes for external competitions may vary from these and we will address these on an individual basis.
Note: Updated file naming guidance Dec 2013.  Other updates Feb & Aug 2015.
We try to make entering our internal competitions as easy as possible as we know it can be daunting if you haven't submitted pictures before (and of course not every member wishes to).  However it can be good fun and help you to develop your own particular style of photography so this is a note about our three main internal competitions, a how-to on preparing and submitting entries, and the judging. Continue reading →