This was the first competition of the 2019-20 season and thus the first experience of our new format for the Shuffell series.  To reduce the number of images on any one particular judging evening to a more manageable (and enjoyable) number, we have partitioned the 3-stage competion as follows:- 1st round: 2 Prints &/or 1 […]
Latest Club News… > > > > Members must log-in to see competition results etc
This was the first competition of the 2019-20 season and thus the first experience of our new format for the Shuffell series.  To reduce the number of images on any one particular judging evening to a more manageable (and enjoyable) number, we have partitioned the 3-stage competion as follows:- 1st round: 2 Prints &/or 1 […]
You can download to print and/or view our leaflet summarizing this year's revised arrangements by CLICKING HERE
By the way, sorry if some of our jargon isn't clear! We use PDI (Projected Digital Image) to mean jpg images that conform to our entry requirements which are simply those that fit into our 1600 pixels wide and 1200 pixels high maximum limits. We will have a pre-meeting workshop to explain all this at 6:45pm in the small committee room on our next club night, Thursday 26th September. Just turn up on the night and we hope to cover both PDIs and Print requirements.
[Note some clubs use the term DPI instead of PDI: we prefer PDI to prevent any confusion with "dots per inch". (And for those expecting to be told to use a particular "dpi" such as 72 or 300, this value does not matter when used on our projector. If you are concerned set it to 300dpi.]
Even if you are not yet ready to enter any Prints or any PDIs, you are always welcome to have a go "to break the ice" or if you prefer, please just talk with Helen or Chris about the photos you might like to submit. There is no pressure to enter competitions (except perhaps for our light-hearted Ladies v Gents) but most people find entering rewarding and helps to have impartial feedback. Don't worry if your early scores are at the lower end: we all do from time to time except for one or two extremely talented members!
Bill's programme for our forthcoming season is now finalised and printed copies and will be available at our first meeting on Thursday 12th September starting at 7:30 pm in the Royal British Legion Hall, Coppice Street, Shaftesbury.
You can view the full programme via our Programme tab on the Menu above or if you prefer, simply download a pdf copy to print at home, please use  THIS LINK.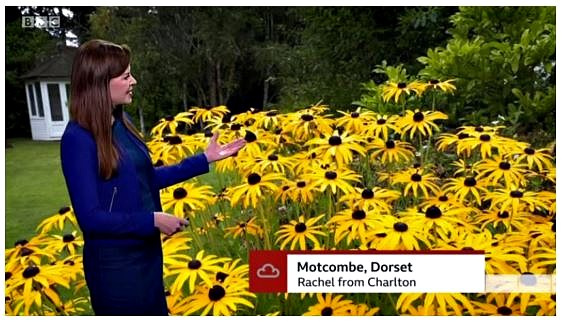 For those not on Facebook or who didn't watch the BBC West weather forecast on Monday, here is the photo that the BBC used in the local forecast.
It is the second time Rachel, one of our members, has had a picture used! Well done!
Shaftesbury Camera Club is always pleased to welcome new members so if you might be interested in joining, please take a look at our Programme Page where you can view or download a pdf copy.  We normally meet on two (sometimes three) Thursday evenings a month starting at 7:30 pm until around 10pm.
This year, we are trialing a new format for our series of internal Shuffell Trophy competitions for PDIs and Prints so we will be giving all members, old and new, plenty of help and support to encourage members to enter either Prints, Projected Digital Images, or both.  In addition to our published programme, we also offer additional workshop sessions covering a range of topics including preparing and entering competitions.  But we are not limited to competitions – every season we have a variety of external speakers, mainly professional photographers but we also have members evenings when one or two members may present an aspect of their interest.  We're always looking for new ideas and suggestions.
Membership costs just £30 per year per person.  Visitors are also welcome for a fee of £3 per meeting.  If you wish to come as a prospective member, simply contact us by phone or email and you will then be welcome to come to two meetings free of charge before deciding to join.  You must be a full member to participate in any competition.  Our present membership is around forty of all ages, beginners to professional, and some just come for the comradeship, interesting talks and competitions, and to learn a bit more about our hobby.
If you've seen our poster while walking in Tesco's car park, do please note they have a time limit of 2 hours which is not normally enough for our evenings so we suggest parking either in Coppice Street or the public car park off Coppice Street.  The pedestrian entrance to the RBL Hall is via the Football Club car park and the large metal gates into the Hall.
Our New Season starts on September 12th at 7.30pm in the RBL hall as usual.
Our first meeting traditionally tends to be social – with light refreshments but this year we are adding more structure and interest.
We will have a SPEAKER for the second half of the evening; further details will follow on the website
The NEW PROGRAMME will be presented together with new rules for the cumulative (3 round) Shuffell trophy and a new standard for PDIs. The attached PDF will give you the details in case you cannot come and they are also on the website, as is the programme. We will also be accepting ideas for workshops.
There will be a brief demonstration of the new competition entry form and PDI upload facility.
A meeting not to be missed and we look forward to seeing you all plus any visitors you might wish to bring – 2 meetings are free if you are thinking of joining but only paid up members can enter competitions.
Our first competition evening is October 10th with entry and uploading deadline October 3rd. The set subject is 'People at work' and we need EITHER 2 prints (one set subject and one open) AND/OR 1 PDI (set subject)
Thinking ahead to the AV competition- Windows Movie Maker for Windows 10 is available again, it isn't the only AV programme you can use but it is very simple and quick to master. Brian T has downloaded and checked a copy from www.minitool.com as has Chris so do ask for more details.
Those of you who shop in Tesco should see our smart banner on the RBL railings for a week or two before the first meeting, please keep an eye on it and do any remedial work necessary or even remove it if it is vandalised. Let a committee member know if there is a problem but some will be away over the next couple of weeks.
SCC Committee
Over the summer, we have made some changes to improve speed and reliability for both browsing the site and email/competition entries. We do hope you like these changes – it should now be lightening fast!!! In brief, we have moved to a new web host offering a greatly improved server performance, support, and good value. For those interested, we are using a British company, Stratagem.host.
Our upload facility which has served us well was no longer supported so we have changed this to a new format which fully covers Prints and PDIs. It is on a different page but the Quick Link at the top right will take Members there directly. For a short time, there is a competition "Practice" option so Members can find their way round it and check they get auto-acknowledgements for both the entry form and the subsequent PDI upload steps. As ever, comments and feedback always welcome!
Later in the year, we plan to update the theme so it is fully up-to-date regarding web standards but that is another story.
2019 was our fifth Annual Exhibition at Gold Hill Museum which ran for 7 days covering the May bank holiday.  We had over 350 visitors who cast their votes for their favourite images, choosing from 97 prints from 20 different members.
The top three prints were …
1st place:  Alan Casperd's "Best of Mates", an image of two red eyed tree frogs.
2nd place: Andy Head's "Brake Hard", an image of an owl landing on a post.
3rd place: Val Saxby's "Back lit Puffin"with its wings spread.
The set subject for the first round of our Shuffell Trophy in Oct 2019 is "People at Work".
For the Print series Round 1, you need to enter two Prints:  the first print should be "People at Work" and the second should be "Open".
For the PDI series, you need one PDI with the subject "People at Work".  Please be sure to read the post about the new PDI sizing!
Members can enter either or both the Print and PDI series.
We will have a short pre-meeting workshop starting at 6:50pm in the small committee meeting on Thursday 26th September to help any new or existing members prepare their entries.
The deadline for print titles and for PDI uploads is 3rd October.
If in any doubt, do please ask!