NEXT MEETING …    7:30pm Thurs 13th September 2018:

Our first evening of the new 2018-19 Season
We hope to welcome back existing members as well as some new members.  Remember potential members can come along to two meetings free of charge before deciding to join but please note you must join before entering competitions.  If you register your interest by email, we'll keep you updated on all this summer events and news.
  info@shaftesburycameraclub.org.uk or contact us
Member Western Counties Photographic Federation   §  Affiliated to Photographic Alliance of GB
Latest Club News… > > > > Members must log-in to see competition results etc
Just a reminder about the subjects for the upcoming competitions…
First round of the Shuffell Trophy, Thursday 11th October:  Your first print and/or PDI should be "Shadows" and your second print and/or PDI should be "Open"
We hope to be able to find some strong "Shadow" contenders from this competition as our entry for the annual Bradford Abbas Shield inter-club competition later in the month.
Ladies v Gents, 10th January 2019:Set subject for any entries is "Fluid".  Please see our post on the web about how this can be interpreted, remembering this is a fun competition where everyone who submits one or more entries will have at least one selected by the team leaders.  We always hope everyone will enter something.
For all other competitions, the subject is "Open", i.e. any subject you like!
More info in the first newsletter next season but advance warning might give you time to find inspiration while on your summer travels!  As ever, do please ask if you would like help.
We have a new page on our web site for our members to suggest or recommend photo venues others may find interesting for either individual visits or as a group trip.  This page can be found from our Quick Links panel at the top right of the page or simply clicking on this www.shaftesburycameraclub.org.uk/photovenues  link.
If any member would like help contacting other particular members,  please ask Chris at info@shaftesburycameraclub.org.uk or perhaps try our Facebook Page.  Members can also contact Chris with their own suggestions.
The subject for our light-hearted annual Ladies v Gents competition on 10th Jan 2019 is "Fluid".   We intend this to be interpreted flexibly, or should we say "fluidly" :-))
Obviously seascapes with movement qualify or a still life of a glass of whisky and an ice cube but we would like to see much more imaginative or creative interpretations.  Perhaps both the ladies and the gents teams might like to each have a brain-storming session or two!  For inspiration, you may like to explore some dictionary definitions and synonyms e.g. https://www.collinsdictionary.com/dictionary/english/fluid
Our LvG competition is meant to be a fun evening with lots of banter and in recent years, we have had the Ladies seated on one side and the Gents on the other.  We hope we can encourage everyone to participate by submitting up to 6 PDIs.  We guarantee any member submitting images to the team captains will have at least one selected so don't worry about being too rigorous over the interpretation of "fluid"!
We had a good turnout for our AGM & Prize Giving and with the formalities kept to a minimum, members were able to enjoy an evening of drink and nibbles as well as discussing summer plans.  There will be an end-of-season email confirming our summer events and competition subjects.
The AGM business highlights included:
Chairman's report (in full below): growth in membership to 46; thanks to all our helpers; & a successful programme
Committee changes: David thanked Karen who is standing down from Committee and welcomed Jayne as a new co-opted member
Financial Report: small increase in our healthy reserves
Members & Visitors fees: to stay unchanged
A.O.B: We will have a Trophy for our annual AV contest following a proposal from Richard B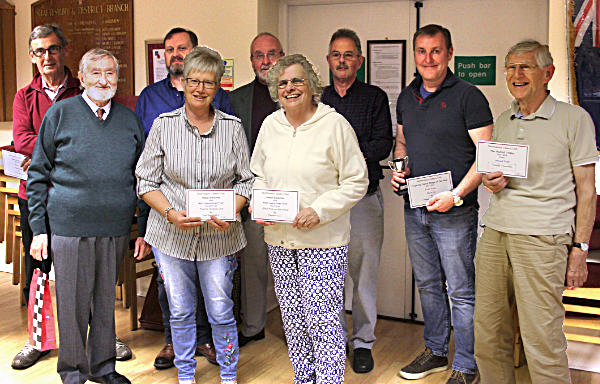 Franco Santagostino, a long standing past member, presented this year's trophies and awards.  Full details are on our Roll of Honour and Annual Placings pages under the Competition Menu Tab above.  Our photo shows the prize winners with Franco (with apologies from Val S and David H).
Photo left to right…
Front; Franco, Sue B, Maureen L, Andy H, David T
Back; Don R, Steve C, David L, Tony W
Chairman's Report…
"Our eighth season has ended with a very welcome increase in our membership to 46 Members, 6 more than the last two Seasons.  31 Members renewed their Membership and we attracted a very encouraging 15 new Members.

It is often not realised in clubs how much effort goes into the organisation of their activities, and our Club is no exception to that. Our Committee, as always, has continued to work with much dedication and enthusiasm throughout the year to help ensure the success of the Club.  Our thanks must go to them all, and also to those who assist with raffles and the tea and coffee as well as those assisting before and after our meetings.

However, for the first time since the Club was formed, we have a Committee Member stepping down after eight years as a member of the team.  Karen Green will no longer be pressurising you to part with your money, and I am sure that you will all join me in a vote of thanks to Karen for the support she has given us over the years.  But, if you think that your money is now safe, you are very wrong.  Jayne Harris has kindly agreed to take on the role following her successful leadership of the Ladies team for the Ladies v Gents competition earlier in the Season.  Jayne is being co-opted to the Committee, and we look forward to welcoming her at the next Committee Meeting.

The Club's Annual Exhibition ran again for 7 days including the May Bank Holiday weekend, with 92 prints on display from 21 different Members.  It was very popular again with around 370 visitors.  Special thanks are due to all those Members who supported the efforts of the Committee through their stewarding, along with the setting-up and taking-down of the Exhibition.

Our fourth venture into the Western Counties Photographic Federation PDI competition resulted in a somewhat disappointing 50th out of 57 clubs, Whilst the overall standard was very high, those of you who saw some of the highly-commended entries of other clubs a few weeks ago in one of our meetings, will have taken some comfort from the technically-poor standard of a few of the winning entries.  Such fundamental errors can be difficult to identify when the judges see the images for only a few seconds.

Our seventh Star Night was very successful, with David Clapp giving us an entertaining and informative evening on his life as a landscape and travel photographer.

Enjoy your photography during the summer.  Hopefully, the sun will shine and provide plenty of shadows for our set subject in the autumn.  I look forward to seeing you all in September."
We will publish our full programme in September but it is already in an advanced state subject to confirmations.  You can view the provisional programme on our Programme page
Once again, our Shuffell Trophy series for Prints and for PDIs was in three rounds with the first round split into first image with subject "Agriculture" and the second image "open".  We had so many prints and PDIs for the first round that at very short notice had to split it across two evenings with Peter Woodhouse judging the Agriculture and Penny Piddock stepping in to judge the Open images.  The later two rounds were judged as planned by Mike Weeks and Malcolm MacNaughton.
The tables below show the rankings for all those who entered six images in the Prints and/or PDI classes.
Well done to everyone who participated, especially those who were doing so for the first time and we hope everyone found it a rewarding experience.  We also are grateful to all our judges who come out often on a cold wintry evening at very low cost to help us all improve our photography.  Critiquing and scoring a lot of images is quite an intimidating task even though they have gone through various judging courses.
Shuffell Trophy 2018
Cumulative scores of those who entered all three rounds
Prints
Total
Position
Val
Saxby
58.5
1
David
Hansford
55
2=
David
Townley
55
2=
Don
Rossi
54
4
Rachel
Shergold
51.5
5
Sue
Boddington
50.5
6
Barbara
Harrison
50
7
David
Lampard
49
8
Barbara
Priest
48.5
9
Dan
Harrison
46
10
PDIs
Total
Position
Val
Saxby
57.5
1
Steve
Chick
56
2
Don
Rossi
55.5
3
Andy
Hargreaves
52.5
4=
Jayne
Harris
52.5
4=
Claire
Thapa
52.5
4=
Tony
Ward
52
7=
Chris
Wildey
52
7=
Barbara
Harrison
51
9=
Rachel
Shergold
51
9=
Jeffery
Bennett
50
11=
Richard
Blake
50
11=
Sue
Boddington
50
11=
David
Townley
49.5
14
John
Ellis
49
15=
Karen
Green
49
15=
Jan
Ward
48.5
17
Julie
Deverill
48
18=
Keith
Lear
48
18=
Barbara
Priest
47.5
20
Maureen
Lear
45
21
Dan
Harrison
44.5
22
Over 400 people visited our Print Exhibition in the lovely Garden Room at Gold Hill Museum over the early May Bank holiday week where we had nearly 100 Prints on display.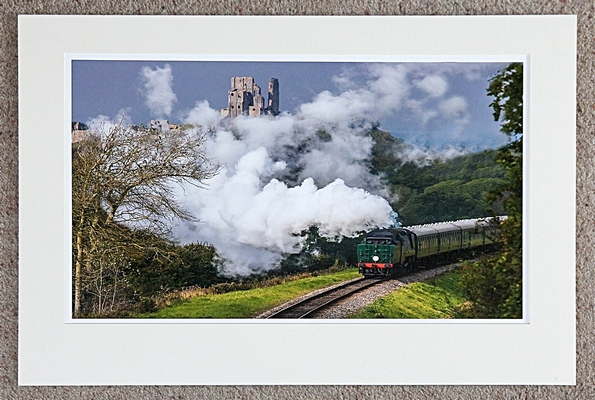 As in previous years, the stewards asked visitors to vote for their favourite prints.  The three winning prints are shown here.  Many of the visitors were very complimentary about the variety of subjects and the quality of the photography.  We had several enquiries about joining our club and anyone else who might be interested please do email us at info@shaftesburycameraclub.org.uk.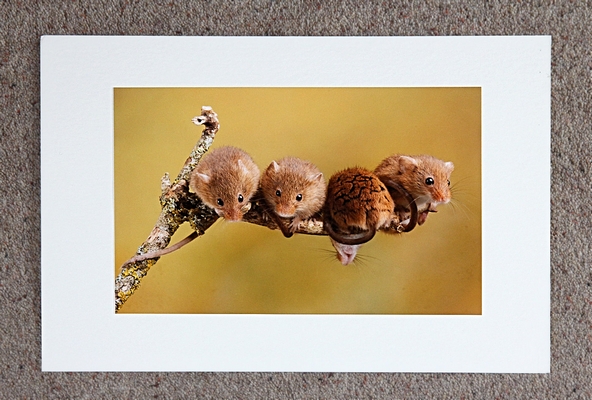 Tony Ward won first place with his "The Castle and the Fiery Dragon" while Sue Boddington's "There is always one" came second and "Gold Hill in the snow" by Maureen Lear came a very popular third.  Congratulations to all who entered and many thanks to all the members who helped in any way.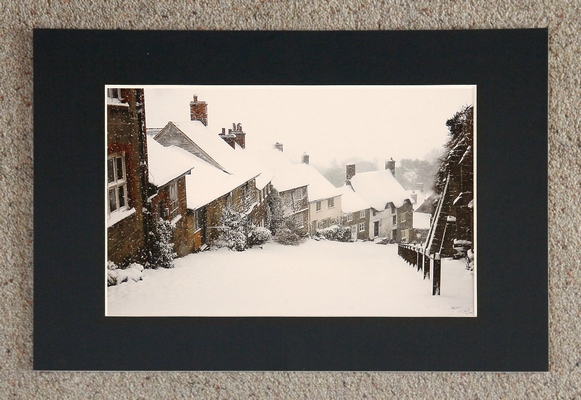 The other prints that made it into the Top 10 were as follows…
Singing Wren by Val Saxby LRPS
The Fisherman by Val Saxby LRPS
Double Cuteness by Val Saxby LRPS
Winter sun lighting trees by Barbara Harrison LRPS
Buttermere Landscape by Barbara Priest
Sunrise over Wingreen by Maureen Lear
Misty Morning by Keith Lear
We look forward to welcoming even more visitors to next year's exhibition – same time, same place.
Shaftesbury Camera Club has published its Privacy Policy as a response to the GDPR (General Data Protection Regulations).  It can be found under the privacy link in the footer of the Home page or directly via www.shaftesburycameraclub.org.uk/privacy  .
More information on the GDPR can be found on the UK Government's Regulator website www.ico.org.uk .
Marks as below… Photograph of the Year 2018     May 10th   Judge: Amanda Miller         Subject: Open PRINTS Singing Wren 10 1st Val Saxby LRPS Double Cuteness 10 2nd Val Saxby LRPS The Chase 10 3rd Don Rossi Three Pink Roses 9.5 Jeffery Bennett Free Running 9.5 Jayne Harris […]