Latest Club News… > > > > Members must log-in to see competition results etc
This was the final round of our annual trophy competition to find our Photographer of the Year. It was originally scheduled to take place at the end of January but we had to postpone it due to the snowfall. We had booked Mike Weeks to come and judge our Ladies v Gents competition on the […]
SCC has been invited by Blandford Forum CC to participate in a three club "Match-an Image" competition later this season. The last one of these was in November 2014 again hosted by Blandford where we came 3rd having won (… just) the year before: read our brief report here.
These notes are to help newer members to understand how this fun competition is run and to help them provide us with suitable images.
At the start of the evening, each club has to be prepared with 40 PDI's loaded on their own laptop and projector. One club will then project one of their PDI's as a "starter" image: the other two clubs then have a strict time limit of 30 seconds to select and project their "matching" image. The judge (who is often the victim of considerable good-natured banter) then has to award marks as follows:
The "starter" image automatically gets 1 mark
"Matching" images get 1 mark each if the judge agrees they match the starter
The judge awards a further 1 bonus mark to the best quality image from the starter and valid matches
If none are judged as matches, the starter gains a bonus of 1 mark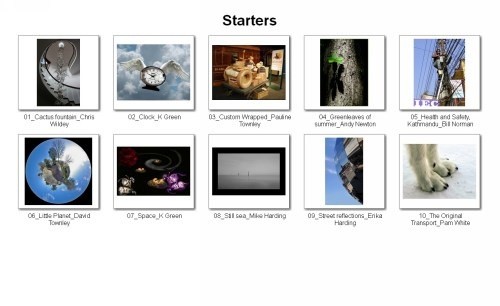 The three images used in each round cannot be used again in subsequent rounds. Each club takes it in turn to provide the "starter" image and there are a total of 30 rounds. Hence each club provides 10 starters and 20 "matches", and will have 10 unused images at the end.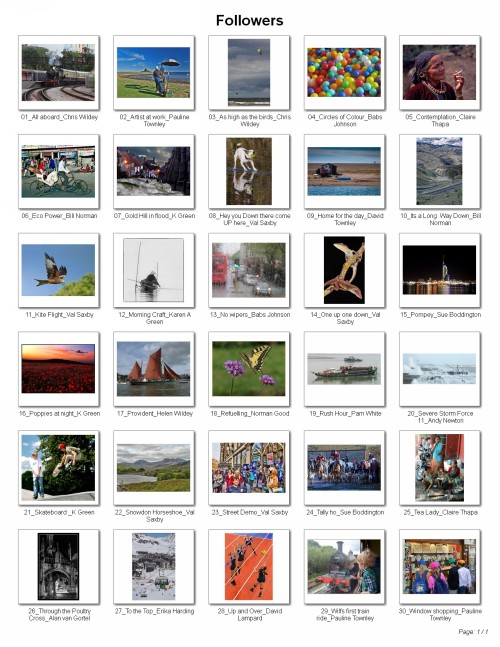 In addition to our laptop, projector and 40 PDIs, we will have our PDIs printed as contact sheet and clearly numbered to help make our rapid choice of matching images before the disqualifying 30 second time limit. Used images can be crossed through with a black pen. As a minimum on the night, we will need two members to choose the images, one to run the laptop and one to keep score. Additional members can help by challenging the unfortunate judge!
It should be clear that our 10 "starter" images need to be difficult for other clubs to find a "match" but our "follower" ones need to be general enough to match all sorts of others.
Some words soon… SCC WCPF DPIC 2018Exeter, Sunday 10th Feb 2019Judges Gwen Charnock Phil Charnock Peter YoungBlue Ice Andy Hargreaves14Feed Me Val Saxby12Midnight Storm Chris Wildey12Railway Ghosts Tony Ward12Ready Val Saxby12Signalling the end of the day Tony Ward12Spiral Andy Hargreaves12A grey day on the coast Sue Boddington11Reflection at sunrise David Lampard11There is always one Sue Boddington11Honestly Im in the blue team Don Rossi11Back lit puffin Val Saxby11Namaste Claire […]
This season's Western Counties Photographic Federation DPIC competition was held on Sunday 10th Feb in Exeter and the headline news is that this year, our club scored 200, coming in the top half at 26th= out of 57 clubs. To see the detailed results please log in and follow this link…

Last year, we didn't fare at all well coming 50th= out of 57 clubs with a score of 179. The table below plots our performance over the years…
WCPF DPIC
Shaftesbury Camera Club Results…
Year
Score/270
Position
No of Clubs
2015
191
20=
47
2016
191
34=
56
2017
179
33=
55
2018
179
50=
57
2019
200
26=
57
We've never recommended parking in the Tesco Car Park but realise some members may use it. Please note that the Tesco car park has recently reduced the permitted stay to 2 hours.
The Met Office have issued warnings for heavy snow affecting parts of Dorset during Thursday afternoon and evening. We have therefore decided to cancel Thurs 31st Jan meeting and to postpone our Shuffell 3 mono competition to Thurs 14th Feb. We are striving to notify all members by email but please help spread the word.
This means our Ladies v Gents competition (subject "Fluid") will have to be held at a later date: more details later. You are welcome to upload candidate entries as normal but there is no deadline at present.
We had eight entries for our annual audio-visual evening this season. Members voted by rating their favourites 1, 2 or 3. The overall winner by a substantial margin was Richard Blake with his "These Boots". Dan H came 2nd with "A baffled traveller" with Jeffrey B coming a very close 3rd with "Wildlife in the garden".
Congratulations to Richard for winning and thanks to Brian for organising it.
Congratulations to Rachel, one of our members, for getting a photo from her visit to Exeter featured on yesterday's BBC One's Weather at 6:30! Take a look on our Facebook Group Page…
UPDATE… If anyone would like to submit their A-V in advance so I can check it runs OK on the club laptop, please just me know so I can email you special instructions.  Please note you need a fast internet connection as it will take quite a few minutes to upload.
Chris 
—————-
Our annual members' A-V Evening is always very popular and a good way to show off a different aspect of your talent, i.e. putting a 3 or 4 minute slide-show of one of your photo sequences to music.  Brian traditionally leads this and holds a brief workshop each season to introduce new members to A-V and to update all members about current software.  There are two or three commercial software packages but the following notes relate to free software currently available.
In the past, Windows Movie Maker (WMM) was a popular choice and available free as part of Microsoft's Windows software but is has been withdrawn since Windows 10.  Although you may find WMM for download on various internet sites, do be warned that many (if not all) are compromised with malware.
Brian has identified a number of possible alternatives to WMM but be sure you always download these from their official sites:-
Microsoft Photos
+A successor to Windows Movie Maker that is easy and fun to use
+Pre-installed with many versions of Windows 10
+Good choice of filters and effects
-No multi-track timeline
-Not Mac or Linux
Shotcut  website:  shotcut.org 
+Well designed interface
+Customizable filters
-No export filters for some devices
VSDC Free Video Editor  website:  www.videosoftdev.com
+Alternative to old Windows Movie Maker if you have a creative streak
+Non-linear editing with great effects and transitions
-Not Mac or Linux
-No hardware acceleration
Avidemux   
+A Windows Movie Maker alternative with lots of export options
+Clear interface
-No timeline
VideoPad Video Editor  website:   www.nchsoftware.com
+Closely resembles Window Movie Maker
+One-click effects and filters
-User Interface looks a bit dated