Latest Club News… > > > > Members must log-in to see competition results etc
2019 was our fifth Annual Exhibition at Gold Hill Museum which ran for 7 days covering the May bank holiday.  We had over 350 visitors who cast their votes for their favourite images, choosing from 97 prints from 20 different members.
The top three prints were …
1st place:  Alan Casperd's "Best of Mates", an image of two red eyed tree frogs.
2nd place: Andy Head's "Brake Hard", an image of an owl landing on a post.
3rd place: Val Saxby's "Back lit Puffin"with its wings spread.
The set subject for the first round of our Shuffell Trophy in Oct 2019 is "People at Work".
For the Print series Round 1, you need to enter two Prints:  the first print should be "People at Work" and the second should be "Open".
For the PDI series, you need one PDI with the subject "People at Work".  Please be sure to read the post about the new PDI sizing!
Members can enter either or both the Print and PDI series.
We will have a short pre-meeting workshop starting at 6:50pm in the small committee meeting on Thursday 26th September to help any new or existing members prepare their entries.
The deadline for print titles and for PDI uploads is 3rd October.
If in any doubt, do please ask!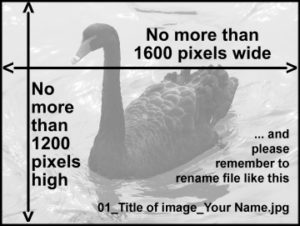 As from September 2019, Shaftesbury Camera Club will be adopting the new PDI standard of 1600 x 1200 pixels that is being used by WCPF and many other clubs.  Fortunately the software we routinely use (Dicentra and Faststone) detects the projector native resolution and rescales on the fly to match.  This means a full 1600 x 1200 image will be rescaled downwards by exactly 10% to accommodate our 1920 x 1080 projector, i.e. the image will be presented as 1440 x 1080.
Shaftesbury Camera Club are always pleased to welcome new members.  Our next season starts on 12th September 2019 so if you might be interested in joining, please take a peak at our provisional programme below.   Final details are confirmed during the summer immediately prior to printing the programme ready for our first meeting and you can always access it via our Programme tab on this website.  We normally meet on two (sometimes three) Thursday evenings a month starting at 7:30 pm until around 10pm.
This year, we are trialing a new format for our series of internal Shuffell Trophy competitions for PDIs and Prints so we will be giving everyone plenty of help and support to encourage members to enter either Prints, Projected Digital Images, or both.  In addition to our published programme, we also offer additional workshop sessions covering a range of topics including preparing and entering competitions.
Provisional Programme 2019-2020
Thursday 12th. September:  Welcome to all. Review programme. Members please bring prints (unmounted) and PDIs (on a memory stick) to show your summer work with emphasis on the set subject for the Bradford Abbas Shield competition, People at work
Thursday 26th. September: Guest Speaker: Stephen Banks.  Subject: Dorset as you have never seen it before.
Stephen moved to West Dorset in 2010 and was immediately struck by the clarity of the night sky there. Soon, he had created two time-lapse films, Bridport by Night and later, Dorset by Night
Thursday 10th. October: The Shuffell Trophy, round 1  Subject: People at work.  1 Print and/or 1 PDI set subject and/or 1 print open
Tuesday 22nd. October: The annual Bradford Abbas Shield competition away.  Subject: People at work
Clubs taking part are Sherborne Bradford Abbas, Yeovil, Wincanton, South Petherton and ourselves.  Each club to enter 5 prints and 5 PDIs
Thursday 24th. October:  Guest speaker: Mike Harding (past member).  Our first year in Wales
Thursday 31st. October:  In House members evening: Using imaging software tools and trial run for club members judging an internal competition
Thursday 14th. November:  Guest speakers: John and Di Tilsley.
John is a Western Counties Photographic Federation lecturer, and member of the team responsible for training and mentoring judges. A prolific photographer with wide interests, his specific area of expertise is monochrome prints. Di is also a prolific photographer in her own right and together they make a formidable team. They are members of Dorchester Camera Club
Thursday 28th. November:  The Shuffell Trophy, round 2.  Subject: Open. 2 prints and/or 1 PDI
Thursday 12th. December:  In house members evening.  The 10 x 20 photo story, any subject.  A non-competitive fun event where members present a PDI slide show of 10 images, 20 seconds per image with commentary (though not mandatory).  Please note: Not to be confused with Audio-visual evening!
Thursday 19th. December:  Our Christmas Social Evening. Wine, food and the Chairman's Challenge competition.
Thursday 9th. January 2020:  Club member's presentations: Alan Casperd and Dan Harrison
Thursday 23rd. January:  The Shuffell Trophy, round 3.  Subject: Open 2 PDIs
Thursday 30th. January:  In house Audio-Visual competition where members submit a short AV of around 5 minutes with the prize for the best presentation voted for by those present
Thursday 13th. February:  In house evening.  Members are invited to show a photo and tell the story of why they took the image or showing an image before and after manipulation with a short explanation of how they arrived at the final result
Thursday 27th. February:  Ladies v Gents,  Our annual fun competition. Anything goes!  Subject: Open
Thursday 12th. March:  Guest speaker: Jo Bradford  Subject: Darkrooms & Smartphones
Expect the unexpected. Jo delves into her life as a darkroom printer, analogue film photographer and her later work on her bestselling "Smart Phone Smart Photography Book"
Thursday 26th, March:  The Shaftesbury Camera Club PDI 4 club Shaston Challenge Subject: Open.
Clubs To be confirmed. Each club to enter 12 images
Thursday 9th. April:  Guest speaker: Leo Rich  Subject: The Idle Rich Rambles on
Leo Rich joined his first camera club over forty years ago and during this time he has amassed a considerable amount of expertise both as a photographer and judge both at home and abroad. He has also been president of the PAGB
Tuesday 14th. April:  The Story behind the Picture
Sherborne Bradford Abbas hosts an informal, non competitive evening with Dorchester and ourselves
Thursday 23rd. April:  Image of the Year Competition.  Only 2 prints and/or 2 PDIs per member
Ferndown Camera Club 4 Club PDI Competition at Ferndown as part of their 40th. season
Thursday 30th. April
**** STAR NIGHT ****
Guest speaker: Robert Harvey
Saturday 2nd. May – Friday 8th. May:  Members Annual Exhibition in Gold Hill Museum
Thursday 14th. May:  AGM and prize giving
We are very sad to report the death of one of our members, Keith Lear who died on 19th April after a long battle with prostate cancer.
There will be a service to celebrate Keith's life at Bell Street United Church on Wednesday 8th May at 2pm. Please wear bright colours. No flowers but donations if desired for the Dogs Trust (where their dog Beaver came from) may be sent to Merefield & Henstridge Funeral Directors, Ridgemount, Pitts Lane, West Melbury, Shaftesbury, Dorset. SP7 0BU
Please note you need to log-in to view the full Shaston 2019 results but the headline result was:
Wareham 105.5
Shaftesbury 102
Parkstone 95.5
Wincanton 95
For those who couldn't make it to the evening, I'm afraid you missed some lovely cakes!
We host the Shaston Challenge to bring together a variety of neighbouring clubs each year for a friendly 4-way match with each club submitting just 12 PDIs.  The judge is kept secret, even from ourselves (except of course for Bill who has the nerve-racking task of planning the evening 🙂 ).  This year, our guest […]
We've never recommended parking in the Tesco Car Park but realise some members may use it. Please note that the Tesco car park has recently reduced the permitted stay to 2 hours.
This was our third match with Aspley CC who are a similar but slightly stronger club than us, judging by the results.  These international matches are interesting because they break across some of the fashions in photography as well as in judging.  There are also some differences in how competitions are run.  For example, in […]