NEXT MEETING …    7:30pm 25th April
Print & PDI of the Year Competition
Members can enter up to 2 Prints & up to 2 PDIs in this PotY competition to identify the best images of the year.  Images can have been used in the Shuffell series or be entirely new. 
N.B. 18th April Deadlines: (i) submission of PotY print titles and/or PDI Uploads; (ii) Exhibition Print Titles (up to 6 but depends on space). 
PLEASE READ POST BELOW ABOUT PARKING IN TESCO'S
EXTRA 1: Tuesday 16th April at Blandford: Match-an-Image competition with Blandford and Dorset Light.  Another fun evening!  Difficult to find so ask for directions DT11 7RJ
EXTRA 2: Tuesday 23rd April at Bradford Abbas: SBA host an informal evening with Dorchester & ourselves where club members talk about their PDIs.  10 PDIs per club – volunteers please contact Chris.  Ask for directions (70 yds west of Rose & Crown, DT9 6RF)
  info@shaftesburycameraclub.org.uk or contact us
Member Western Counties Photographic Federation   §  Affiliated to Photographic Alliance of GB
Latest Club News… > > > > Members must log-in to see competition results etc
Star Night 2019
An Evening with Allen Lloyd
7:30pm
Thursday 9th May 2019

Royal British Legion Hall
Coppice Street, Shaftesbury, SP7 9PD
Entry by ticket: To purchase/reserve tickets please
phone 01963 370900 or email starnight@shaftesburycameraclub.org.uk
Tickets (inc refreshments): £6 each (Cheques payable to "Shaftesbury Camera Club").

Allen Lloyd has been a wildlife, nature and landscape photographer for more years than he cares to remember. He still enjoys nothing more than helping and teaching others to improve their photographic skills, and is fully committed to digital photography. He is a member of the Licentiate Distinctions Panel of The Royal Photographic Society and a listed lecturer for The Photographic Alliance of Great Britain.

Non-members welcome – tickets on first come first serve basis!
PLEASE READ POST BELOW ABOUT PARKING IN TESCO'S
Please note you need to log-in to view the full Shaston 2019 results but the headline result was:
Wareham 105.5
Shaftesbury 102
Parkstone 95.5
Wincanton 95
For those who couldn't make it to the evening, I'm afraid you missed some lovely cakes!
We host the Shaston Challenge to bring together a variety of neighbouring clubs each year for a friendly 4-way match with each club submitting just 12 PDIs.  The judge is kept secret, even from ourselves (except of course for Bill who has the nerve-racking task of planning the evening 🙂 ).  This year, our guest […]
We've never recommended parking in the Tesco Car Park but realise some members may use it. Please note that the Tesco car park has recently reduced the permitted stay to 2 hours.
This was our third match with Aspley CC who are a similar but slightly stronger club than us, judging by the results.  These international matches are interesting because they break across some of the fashions in photography as well as in judging.  There are also some differences in how competitions are run.  For example, in […]
We're pleased to see our Club's Facebook Group (which we launched earlier in the season) is gradually getting a life of its own.  Jayne has put a nice report of our last meeting with Debbie and Paul and their talk on "The pure art of wedding photojournalism".  For those not on Facebook, you can take a peek by clicking on the screenshot!
And as Jayne says, "Anyone who didn't come last night, I'm afraid you missed out!"
This was the final round of our annual trophy competition to find our Photographer of the Year. It was originally scheduled to take place at the end of January but we had to postpone it due to the snowfall. We had booked Mike Weeks to come and judge our Ladies v Gents competition on the […]
SCC has been invited by Blandford Forum CC to participate in a three club "Match-an Image" competition later this season. The last one of these was in November 2014 again hosted by Blandford where we came 3rd having won (… just) the year before: read our brief report here.
These notes are to help newer members to understand how this fun competition is run and to help them provide us with suitable images.
At the start of the evening, each club has to be prepared with 40 PDI's loaded on their own laptop and projector. One club will then project one of their PDI's as a "starter" image: the other two clubs then have a strict time limit of 30 seconds to select and project their "matching" image. The judge (who is often the victim of considerable good-natured banter) then has to award marks as follows:
The "starter" image automatically gets 1 mark
"Matching" images get 1 mark each if the judge agrees they match the starter
The judge awards a further 1 bonus mark to the best quality image from the starter and valid matches
If none are judged as matches, the starter gains a bonus of 1 mark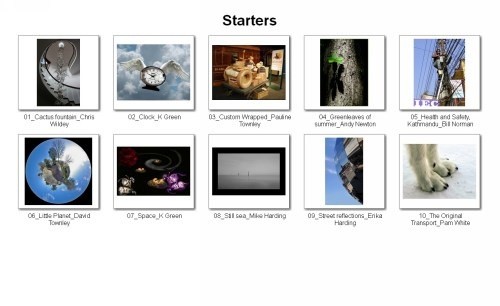 The three images used in each round cannot be used again in subsequent rounds. Each club takes it in turn to provide the "starter" image and there are a total of 30 rounds. Hence each club provides 10 starters and 20 "matches", and will have 10 unused images at the end.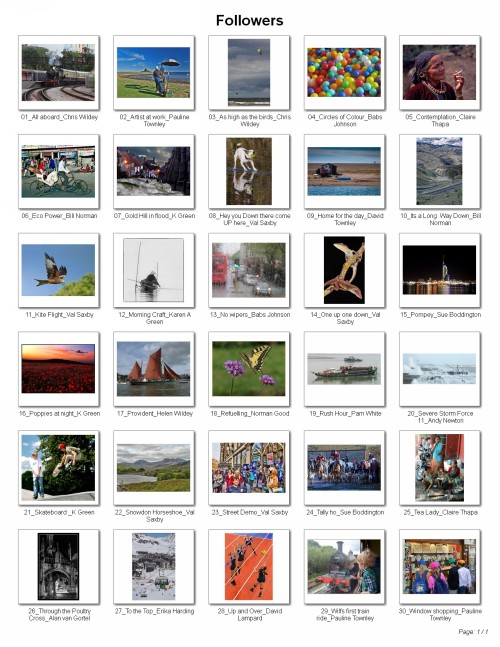 In addition to our laptop, projector and 40 PDIs, we will have our PDIs printed as contact sheet and clearly numbered to help make our rapid choice of matching images before the disqualifying 30 second time limit. Used images can be crossed through with a black pen. As a minimum on the night, we will need two members to choose the images, one to run the laptop and one to keep score. Additional members can help by challenging the unfortunate judge!
It should be clear that our 10 "starter" images need to be difficult for other clubs to find a "match" but our "follower" ones need to be general enough to match all sorts of others.
Some words soon… SCC WCPF DPIC 2018Exeter, Sunday 10th Feb 2019Judges Gwen Charnock Phil Charnock Peter YoungBlue Ice Andy Hargreaves14Feed Me Val Saxby12Midnight Storm Chris Wildey12Railway Ghosts Tony Ward12Ready Val Saxby12Signalling the end of the day Tony Ward12Spiral Andy Hargreaves12A grey day on the coast Sue Boddington11Reflection at sunrise David Lampard11There is always one Sue Boddington11Honestly Im in the blue team Don Rossi11Back lit puffin Val Saxby11Namaste Claire […]
This season's Western Counties Photographic Federation DPIC competition was held on Sunday 10th Feb in Exeter and the headline news is that this year, our club scored 200, coming in the top half at 26th= out of 57 clubs. To see the detailed results please log in and follow this link…

Last year, we didn't fare at all well coming 50th= out of 57 clubs with a score of 179. The table below plots our performance over the years…
WCPF DPIC
Shaftesbury Camera Club Results…
Year
Score/270
Position
No of Clubs
2015
191
20=
47
2016
191
34=
56
2017
179
33=
55
2018
179
50=
57
2019
200
26=
57