Latest Club News… > > > > Members must log-in to see competition results etc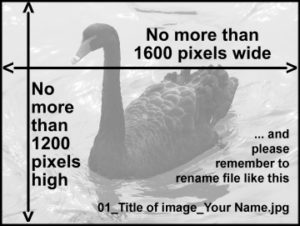 As from September 2019, Shaftesbury Camera Club will be adopting the new PDI standard of 1600 x 1200 pixels that is being used by WCPF and many other clubs.  Fortunately the software we routinely use (Dicentra and Faststone) detects the projector native resolution and rescales on the fly to match.  This means a full 1600 x 1200 image will be rescaled downwards by exactly 10% to accommodate our 1920 x 1080 projector, i.e. the image will be presented as 1440 x 1080.
The definition of monochrome is often a question at our competitions…
Monochrome is often considered to be limited to just Black & White.  However monochrome can include a B&W image overlaid by any single colour filter, commonly sepia but this can be any other single hue colour.
An image can be tested for monochromaticity by looking at the information panel in Photoshop Elements or similar software while scanning the cursor across the image: in the Info panel, look for the Hue/Saturation/Brightness numbers where the H value will be 0 degrees for B&W or a constant number of degrees for a monochrome image.
The Club runs short workshops on a request basis during the season for both new or established members.  Generally these are arranged for one-to-one or small group sessions starting at 6:45pm in the Committee Room on Club nights.  The topics can cover any thing related to photography, cameras or photographic software: examples of some past topics can be found under the "Pixels" menu item on our web site.
We can cover most subjects so please just email or ask Chris who will then try to make arrangements for a workshop in one or two meetings time.  The sessions are often run by Brian, Val, Karen or Chris and you are always welcome to approach them direct during club evenings.
Our first workshop this season will be run by Brian on producing AV sequences on Thursday 29th October: strongly recommended for new members or as a refresher.
We had a very different type of meeting last Thursday (31st Oct 2013)  —   and one that might just trigger a few members to try something a little brave and entirely new.
The evening was titled "Looking at the Salons" and originally intended to be a members in-house evening where we would attempt to understand what Salons are and what the world of exhibition photography entails.  In preparing for the evening, we quickly realised we would be getting out of our depth and needed help!  Bill subsequently spoke to Penny Piddock from Dorchester CC for advice and she volunteered to come to lead our meeting as she was free that evening.  Penny, an accomplished photographer with particular interests in nature and underwater photography who is also a WCPF lecturer and judge, has some experience of having acceptances to various Salons and proved to be an excellent guide for our evening.
She gave us an overview of the various salons, their advantages and potential pitfalls.  Although some very striking images are fairly "creative", there are entry classes for "open" and "nature" that are not too far removed from good club photography.  She is now entering quite a variety of different salons and always gets a kick when her entries are accepted.  She brought a wide selection of Salon catalogues, which are really quite substantial photographic records of each Salon.  In addition, she brought audio-visual presentations from this year's South Devon 2nd International Photographic Salon which is run by the Newton Abbot Photographic Club.
It was a very enjoyable and somewhat different evening, and many thanks to Penny for stepping in at short notice to give us a helping hand.  We are also very grateful for the catalogues she left with us and for the copies of the South Devon audio-visual files which now reside on the club laptop.   Any interested members who feel they might like to try their hand, even if it is only to experiment with some new composition and techniques, might like to get together to compare notes.
Any member who missed the evening or would like a more detailed study of the material Penny left with us – just ask Bill or Chris.  Thanks also to Newton Abbot PC for their willingness to let us have the files.
 Chris
Catalogue List:-
Vale of Evesham Camera Club – www.photo2013.net
Port Talbot Camera Club – 2nd Exhibition of International Photography
Swansea Camera Club – Eighth Exhibition of International Photography
Southampton Camera Club – 98th International Exhibition of Photography
UPDATE 2019: The Club standard for internal PDI competitions has been increased to 1600 pixels wide x 1200 pixels high as from September 2019. Sizes for external competitions may vary from these and we will address these on an individual basis.
Note: Updated file naming guidance Dec 2013.  Other updates Feb & Aug 2015.
We try to make entering our internal competitions as easy as possible as we know it can be daunting if you haven't submitted pictures before (and of course not every member wishes to).  However it can be good fun and help you to develop your own particular style of photography so this is a note about our three main internal competitions, a how-to on preparing and submitting entries, and the judging. Continue reading →
The latest short article in our virtual digital workshop section of the web deals with resizing and sharpening images for PDI (projected digital image) competitions.  Members can find it under "Pixels" in the top menu once you have logged in or by clicking here On resizing & sharpening PDI images for competition…
In addition, we have a short slide show demonstrating some sharpening effects which we can show during a pre-meeting workshop.  If you are interested, please just ask Chris!