Creative Photography – 22nd March 2012 (change to programme)
Penny Piddock AFIAP DPAGB from Dorchester Camera Club will be coming to talk to us about "Creative Photography".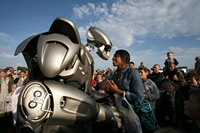 To help us prepare for her talk, she has provided us with an image to experiment with.  She says " Creative file attached with lots of room for improvement & even more for creative juices to work on.  Hope one or two will have a go at it. No holds barred , anything goes. Small prize for the best on the night, prints or DPI"
We'll have a look at any member's efforts after the break and then, if there's time, she'll show some entries from a Creative Salon.
Sounds a fun evening!
We are most grateful to Penny for stepping in at short notice as a replacement for our scheduled speaker who is unwell. 
Hopefully all members will have received a copy of the image to play with but if you want a full resolution copy please email info@shaftesburycameraclub.org.uk.  Bring your efforts in any form – print or pdi.  No need to worry about titles or sizes!