SCC at Gillingham & Shaftesbury Show 2013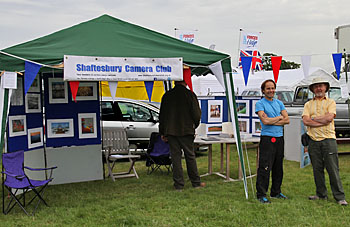 It was a beautiful sunny day at the Gillingham & Shaftesbury Show this year, and we were pleased to have a simple stand where we could display a few images and meet lots of people.  We hoped we were able to satisfy most questions about cameras and digital processing but it was interesting that quite a few visitors still use film.
Our new season starts on September 26th in the Royal British Legion Hall, Shaftesbury and the complete programme of talks and competitions can be viewed or downloaded for printing from the programme menu tab above.  We also run workshops to help master camera usage, photographic techniques, and digital processing: there are also quite a few short articles on our web site – please just ask us for the log-in details to read them.
Prospective members are welcome to come along to two club nights before making a decision to join (only £25 for a full season's membership).  We also welcome visitors if a particular meeting is of interest for just £2.
Our next newsletter will be available in the next couple of weeks, and you can also follow us on Facebook and Twitter.  We are always very pleased to receive notices about any local photographic events and to include these in our newsletters and web.  Please send any questions about membership to Chris at info@shaftesburycameraclub.org.uk.