NEXT MEETING …    7:30pm Thurs 27th September 2018:

The Role of the Army Photographer: Gary Kendall & Ross Nolan
Our guests Gary and Ross are combat photographers trained by the British Army.  Their role is to provide a media capability to promote and protect the reputation of the British Army worldwide.
Pre-meeting Workshop: Starting at 6:50pm in the small committee room, a short introduction to entering Prints and PDIs for our Shuffell Competitions.  For new members or as a refresher.
  info@shaftesburycameraclub.org.uk or contact us
Member Western Counties Photographic Federation   §  Affiliated to Photographic Alliance of GB
Latest Club News… > > > > Members must log-in to see competition results etc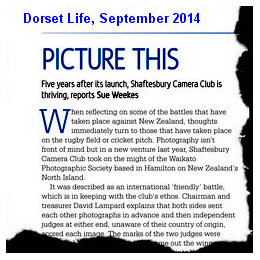 Dorset Life  magazine, September 2014 issue, had a full page article on Shaftesbury Camera Club together with two photos by club members: Amazon Milk Frog by Val and Kaffir Lily by David T.  It was a great timing just as we were about to start our fifth season.
We hope quite a few members bought their own copy but in case you missed it, we are very grateful to the Editor for permission to reproduce the full page on our web site here: just click on the cutting to read the PDF file.