NEXT MEETING …    7:30pm Thurs 13th September 2018:

Our first evening of the new 2018-19 Season
We hope to welcome back existing members as well as some new members.  Remember potential members can come along to two meetings free of charge before deciding to join but please note you must join before entering competitions.  If you register your interest by email, we'll keep you updated on all this summer events and news.
  info@shaftesburycameraclub.org.uk or contact us
Member Western Counties Photographic Federation   §  Affiliated to Photographic Alliance of GB
Latest Club News… > > > > Members must log-in to see competition results etc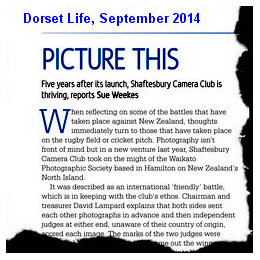 Dorset Life  magazine, September 2014 issue, had a full page article on Shaftesbury Camera Club together with two photos by club members: Amazon Milk Frog by Val and Kaffir Lily by David T.  It was a great timing just as we were about to start our fifth season.
We hope quite a few members bought their own copy but in case you missed it, we are very grateful to the Editor for permission to reproduce the full page on our web site here: just click on the cutting to read the PDF file.