2017 Exhibition was bigger and better!

We were very pleased that our Exhibition in the Garden Room, Gold Hill Museum, 29th April – 5th May was again very well attended.  We had 99 images from 21 different members.  As expected, the footfall was much greater over the bank holiday weekend than the rest of the week but we know a greater proportion of local people are more often around during the working week.
Everyone was encouraged to vote for their favourite image and we had 325 voting slips, just a few less than last year.  We received some very good comments with about 10 people interested in knowing more about the club.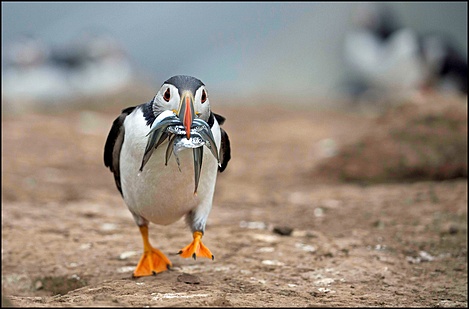 Favourite Print Vote –  remember this was for a favourite not necessarily the best!
As usual we scored 3 for 1st, 2 for 2nd and 1 for 3rd.  Val's puffin in 'The catch of the Day' came first with 131 votes, Jayne Harris second with Secret Hideaway (88) and Val also came third with Eagle Owl (81 votes).  Mike Harding, Barbara Harrison, Richard Blake, Sue Boddington, David Townley and Jeffery Bennett all scored well.
Many thanks to all members who helped get this very successful exhibition up and running, hanging the prints, manning the sessions, and above all entering their images.
Helen