Bradford Abbas Shield 2019
The Bradford Abbas Shield is a local annual derby hosted by Sherborne Bradford Abbas with entries from South Petherton, Wincanton, Yeovil and Shaftesbury.  The judge is always a closely guarded secret even from SBA themselves.  SBA to date has always chosen the subject but they announced in future the subject would be chosen by the winners however since they also won last year, they had chosen "People at work".  The judge for the evening was Malcolm McNaughton from Dorchester.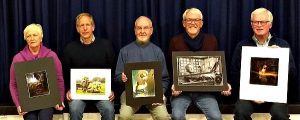 PDIs were judged first and left us in the middle of the field even though we got three 19s: Yeovil received two 20s and the only other 20 was  given to SBA.  Our prints didn't fare too well at all where we were ranked 5th in the prints but with only 3 marks separating these, this did not drag us down from our third place.  Well done to David for helping to save us with his 20, our only one for the evening and shown here together with the other "20" winners.
The competition was covered by the Blackmore Vale Magazine so look out for a brief write-up either this or next week.
Thanks to our hosts and our judge for an enjoyable evening, and SBA have once again to choose the subject for next year's competition!
Bradford Abbas Shield
22/10/2019
Set Subject: 
"People at Work"
Judge:
Malcolm McNaughton
Shaftesbury PDIs
SCC
SBA
Yeo
Win
S Peth
Calligrapher
Sue Boddington
17
19
16
17
18
French Roofer
Bill Norman
16
17
20
18
17
Industrial manicure
Richard Blake
19
20
17
17
19
The Falconer
Val Saxby LRPS
19
19
18
18
16
The Glassblower
Andy Hargreaves
19
19
20
17
16
Sub-total
90
94
91
87
86
Shaftesbury Prints
SCC
SBA
Yeo
Win
S Peth
House Fire, Kington Magna
Chris Wildey
17
20
16
17
19
Shaken not Stirred
Jayne Harris
16
19
18
18
16
Reflecting on Work
David Lampard
20
16
19
20
17
The Tree Surgeon
Jeffery Bennett
17
20
18
17
20
Studio through the window
Helen Pothecary
19
17
18
19
20
Sub-total
89
92
89
91
92
PDI + Print
TOTAL
179
186
180
178
178
POSITION
3rd
1st
2nd
4th=
4th=