NEXT MEETING …    7:30pm   12th December 2019
Members Evening: The 10×20 Picture evening
A new type of evening that is proving popular amongst camera clubs.  Hopefully a lot of members will actively participate by making a slideshow/video with just 10 images, each to be shown for 20 seconds.  You may add a soundtrack commentary or music, or just silence and maybe say a few words while the slide show runs.  Not competitive at all: just a fun relaxed evening.  See our post on "Pecha Kucha" for more details or ask Bill/Chris/Helen for help.  If you can get files to us beforehand, we can make sure they run OK on the laptop.
Deadline 5th Dec Entry Form to submit name, title & filename – (find separate link under Print/PDI link).  Members with fibre-based broadband can also optionally upload their files, otherwise just remember to bring it on a memory stick on the evening! 
  info@shaftesburycameraclub.org.uk or contact us
Member Western Counties Photographic Federation   §  Affiliated to Photographic Alliance of GB
Latest Club News… > > > > Members must log-in to see competition results etc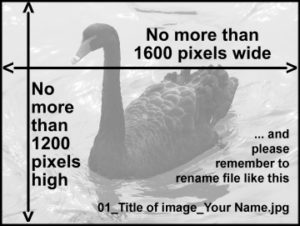 As from September 2019, Shaftesbury Camera Club will be adopting the new PDI standard of 1600 x 1200 pixels that is being used by WCPF and many other clubs.  Fortunately the software we routinely use (Dicentra and Faststone) detects the projector native resolution and rescales on the fly to match.  This means a full 1600 x 1200 image will be rescaled downwards by exactly 10% to accommodate our 1920 x 1080 projector, i.e. the image will be presented as 1440 x 1080.