David Boag – The life of a wildlife photographer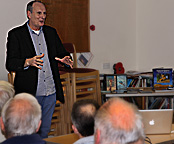 Shaftesbury Camera Club were thrilled to welcome David Boag to the Royal British Legion hall on 15th November 2012 where more than forty members and guests had come to hear him talk about his life and career as a wildlife photographer.  David, with his knowledge of wildlife and his amazing collection of photographs coupled with his amusing and exciting style of presentation, is always very popular with nature groups but this evening he focused more on his long career as a professional photographer and author, the changes brought about by the digital age, and the need to work to tight deadlines while working on book projects rather than waiting days or weeks for perfect conditions.  His first book, published in the early 80's, featured the life of the kingfisher uncovering many previously unknown aspects of its underground life in its nest, under water catching fish and diving.
He has now published a further twelve books and although living locally in Blandford, he still travels extensively on both assignments and as a cruise ship speaker.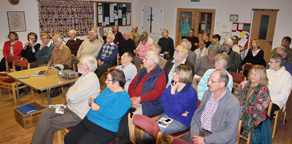 He emphasized creativeness and resourcefulness were far more important than the latest or best equipment, encouraging everyone present to go out and keep trying.  In the second half, he demonstrated his new interactive tutorial on DVD, "Natural Focus" which covers the whole subject of wild life photography with clear animated explanations of the technical basics of digital equipment and many genuine down-to-earth practical tips on creativity, animal life, habitat and plants.