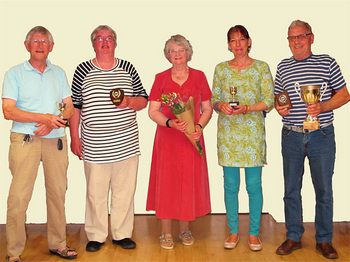 The 2017 AGM was held on 25th May with approximately 30 members attending.  The formalities were efficiently brief with the Chairman giving a report of both the season and the club finances: you can read David's report in full at the end of this post.  Membership and visitor fees will remain at their present level of £30/season and £3/meeting respectively.  The Programme Secretary introduced his provisional programme for our next season commencing 21st September and led a short discussion on some of the options for competitions, subjects and speakers.
The Committee was re-appointed en bloc and we were pleased to fill the vacant vice-chair position with Jeffery Bennett.
Pauline Townley then presented trophies and certificates to the respective winners and runners-up of our Shuffell and Photo of the Year competitions as shown below.  The results of voting at our Exhibition were also announced.  You can view the overall Shuffell results here and see a brief report of our Exhibition here.
Print of the Year
 
 
 
David
Townley
Skyscrapers
1
Mike
Harding
Early Spring Morning
2
Mike
Harding
Painting with light; Donnington Castle.
3
 
 
 
 
 
 
 
PDI of the Year
 
 
 
Claire
Thapa
Feeding Time
1
Karen
Green
Secretary bird
2
Bill
Norman
Hidden France
3
 
 
 
 
Shuffell Trophy Photographer of the Year
 
Prints
 
 
 
Mike
Harding
1
David
Townley
2
Val
Saxby LRPS
3
PDIs
 
 
 
Mike
Harding
1
Jeffery
Bennett
2
Gareth
Ayre
2
Don
Rossi
4
 
 
 
 
Favorite Print at the Exhibition
 
 
Val
Saxby LRPS
Catch of the Day
1
Jayne
Harris
Secret Hidaway
2
Val
Saxby LRPS
Eagle Owl
3
 
 
 
 
= = = = = = = = = = = = = = = = = = = = = = = = = = = = = = = =
Chairman's Report
Our seventh season has ended with the same number of Members as the previous season, namely 40 Members consisting of 32 membership renewals and 8 new Members.  As always, it is very encouraging that the Club has such a high level of renewals and that we continue to attract new Members.  Our Committee has continued to work with much dedication and enthusiasm throughout the year to help ensure the success of the Club.  Our thanks must go to them all.  My plea for assistance with setting-up the room prior to our meetings, along with help with putting everything away at the end of our evenings, did not go unheard.  The assistance being provided by some Members is much appreciated.
The Club's Annual Exhibition ran again for 7 days including the May Bank Holiday weekend, with 99 prints on display from 21 different Members.  As with last year, it was very popular with around 350 visitors and hopefully will lead to a few new Members next Season.  Special thanks are due to all those Members who supported the efforts of the Committee through their stewarding, along with the setting-up and taking-down of the Exhibition.
Our third venture into the Western Counties Photographic Federation PDI competition resulted in an acceptable 33rd out of 56 clubs, again against a very high standard.  However, that result together with the Club's performance in inter-club competitions during the Season, suggest that we have room for improvement.  Some thought is being given to this for our Workshops for next Season.  It is also apparent that we are not presenting all of our best images in external PDI competitions, with a good number of our excellent prints not being available for selection.  We shall therefore be encouraging Members to submit PDI's in our standard format when entering print competitions.
Our sixth Star Night with Paul Sansome  www.paulsansome.com provided us with an excellent evening with some stunning photography.  We were particularly indebted to Paul for bringing his talk forward one whole year when we learnt of the unavailability of our original 2017 Star Night speaker at very short notice.   Bill, our Programme Secretary, had a very worrying time over Easter until Paul Sansome was able to confirm this and our thanks go to Bill for his efforts and Paul for rescuing our Star Night!
Our two full-evening Workshop's proved very successful and were sufficiently attended to justify their continuance.  However, these Workshops are additional to the Programme and, given the cost of hiring the Hall for an evening, we may need to consider a small fee for attendance to help offset the cost.
Enjoy your photography during the summer.  Hopefully, you will not need your wellies for the set subject of Agriculture.  And as regards the Colour Blue for our fun Ladies v Gents competition, I trust that the air will not turn blue with comments from the opposing parties on the evening.  I look forward to seeing you all in September.
David L.