We had a good turnout for our AGM & Prize Giving and with the formalities kept to a minimum, members were able to enjoy an evening of drink and nibbles as well as discussing summer plans.  There will be an end-of-season email confirming our summer events and competition subjects.
The AGM business highlights included:
Chairman's report (in full below): growth in membership to 46; thanks to all our helpers; & a successful programme
Committee changes: David thanked Karen who is standing down from Committee and welcomed Jayne as a new co-opted member
Financial Report: small increase in our healthy reserves
Members & Visitors fees: to stay unchanged
A.O.B: We will have a Trophy for our annual AV contest following a proposal from Richard B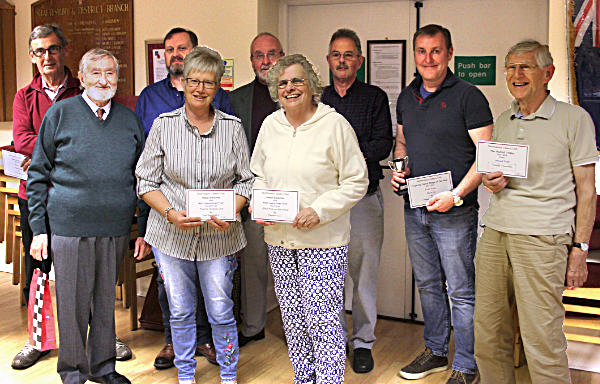 Franco Santagostino, a long standing past member, presented this year's trophies and awards.  Full details are on our Roll of Honour and Annual Placings pages under the Competition Menu Tab above.  Our photo shows the prize winners with Franco (with apologies from Val S and David H).
Photo left to right…
Front; Franco, Sue B, Maureen L, Andy H, David T
Back; Don R, Steve C, David L, Tony W
Chairman's Report…
"Our eighth season has ended with a very welcome increase in our membership to 46 Members, 6 more than the last two Seasons.  31 Members renewed their Membership and we attracted a very encouraging 15 new Members.

It is often not realised in clubs how much effort goes into the organisation of their activities, and our Club is no exception to that. Our Committee, as always, has continued to work with much dedication and enthusiasm throughout the year to help ensure the success of the Club.  Our thanks must go to them all, and also to those who assist with raffles and the tea and coffee as well as those assisting before and after our meetings.

However, for the first time since the Club was formed, we have a Committee Member stepping down after eight years as a member of the team.  Karen Green will no longer be pressurising you to part with your money, and I am sure that you will all join me in a vote of thanks to Karen for the support she has given us over the years.  But, if you think that your money is now safe, you are very wrong.  Jayne Harris has kindly agreed to take on the role following her successful leadership of the Ladies team for the Ladies v Gents competition earlier in the Season.  Jayne is being co-opted to the Committee, and we look forward to welcoming her at the next Committee Meeting.

The Club's Annual Exhibition ran again for 7 days including the May Bank Holiday weekend, with 92 prints on display from 21 different Members.  It was very popular again with around 370 visitors.  Special thanks are due to all those Members who supported the efforts of the Committee through their stewarding, along with the setting-up and taking-down of the Exhibition.

Our fourth venture into the Western Counties Photographic Federation PDI competition resulted in a somewhat disappointing 50th out of 57 clubs, Whilst the overall standard was very high, those of you who saw some of the highly-commended entries of other clubs a few weeks ago in one of our meetings, will have taken some comfort from the technically-poor standard of a few of the winning entries.  Such fundamental errors can be difficult to identify when the judges see the images for only a few seconds.

Our seventh Star Night was very successful, with David Clapp giving us an entertaining and informative evening on his life as a landscape and travel photographer.

Enjoy your photography during the summer.  Hopefully, the sun will shine and provide plenty of shadows for our set subject in the autumn.  I look forward to seeing you all in September."